CollabraCam turns iPhone 4 into multi-cam mobile video studio [Video]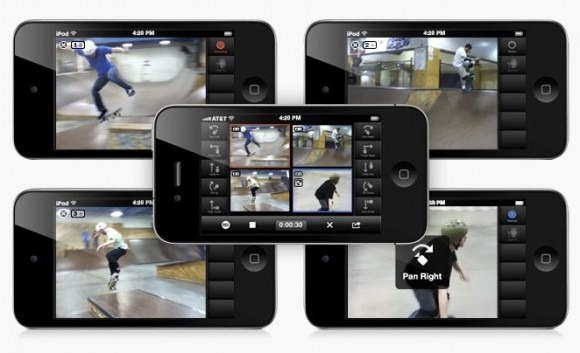 It was only a matter of hours between the iPhone 4 hitting shelves last year and the first "feature film" being recorded using its 720p camcorder functionality. Now, budding cinematographers can turn a handful of handsets into a self-contained multi-camera recording and editing studio, using $6 iPhone app CollabraCam.
The app creates an ad-hoc network – or uses a mobile hotspot – between a host "director" device and up to four iPhone 4, 3GS or iPod touch 3G, pulling in video from each and allowing the various feeds to be cut together in real-time. Silent on-screen directions – like pans, close-ups and more – can be sent out to each operator.
"Video clips are recorded to the cameras and are transferred, compiled and saved to the director in the background as you go. When you end the production and save your session, the final clips are transferred from the cameras to you in a matter of minutes."
If each camera operator saves their name or Twitter username, CollabraCam can automatically generate a credits page with that information. It's also possible to export the project – including all the raw footage, which is gathered onto the director device at the end of the shoot – into a regular video editing app, like iMovie on the Mac. The developers have even used AirPrint so as to wirelessly print off a hard copy of the bundled user guide.
Impressive stuff, and while you'll need a copy of CollabraCam for each device – at $6 a pop – the time you could save in post-processing and editing makes that seem a small price to pay. More details in the video below.
[via Gizmodo]