Coffee Machine Modding: Rancilio Silvia Gets Hacked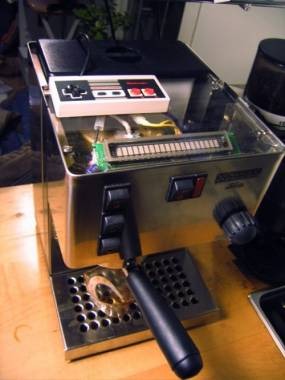 It's first thing in the sweet, buttery morning here in the UK, and what better way to kick of the day than a cup of steaming hot, freshly made coffee.  Sadly it's a pretty long flight to get to Tim Hurzel's place in Ithaca, NY, which is a shame because he's got a damn impressive Rancilio Silvia espresso machine that's been majorly tricked out.
The Rancilio Silvia is one of the most respected prosumer machines on the market, and is the object of uncontrolled lust for many coffee geeks desperate for their first "god shot".  It also has a healthy following of modder and hackers, each keen to add their own tweaks to the machine.  In Tim's case, that consisted of adding a PIC 16F876 microcontroller brain, a 20 character VFD display, three zero-crossing solid state relays, IC thermometer, laser cut acrylic top, cold cathode ground effects and shot light, all operated via a retro Nintendo controller.  More details and a video after the cut!
All that gubbins basically means that Tim can control not only the basic coffee making but also heater and shot timers, as well as give it the necessary drama with some cool lighting.  A plexiglass top keeps everything neat and tidy.  If it were me, I think the next stage would be to make the Nintendo controller wireless!