Cobra's JumPack will jumpstart your car, then charge your phone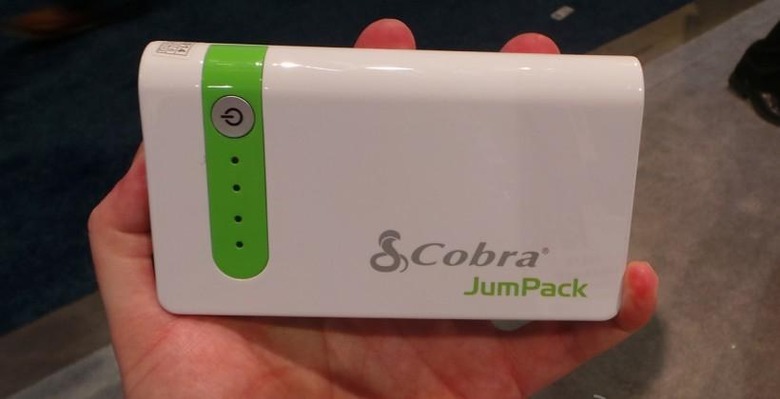 If you're like us, you're mobile more than you're stationary. Running around, your mobile device batteries get worn out. From time to time, so does your car battery. Both seem to die at the worst possible time, but Cobra might have something up their sleeve to help out.
Rather than carry a mobile device battery pack and a jump-starter for your car, why not have an all-in-one device? Better yet, why not have that device be as small as a normal mobile device battery pack you probably have in your drawer? The JumPack from Cobra, which we got a hands-on with at CES.
The JumPack has a 200A starting current, and a peak current of 400A. The battery pack holds a 7500mAh lithium cobalt battery, and has a USB port for charging your mobile device. Cobra tells us it can charge a car multiple times between charges, so you're probably not going to be one and done with this one.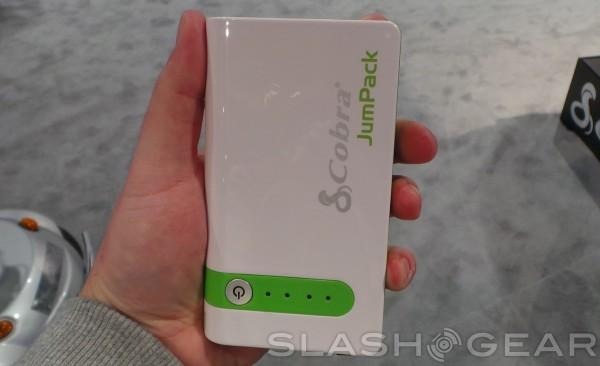 The USB is 2.1A out, and can of course charge devices multiple times as well. If you really get stuck, the JumPack has a light, which has an SOS function as well as strobe to get the attention of would-be good samaritans. JumPack charges via 12V DC and 120V AC.
Here at CES, the JumPack just might be one of the more useful gadgets we've seen. Jump starters can be expensive, and bulky. JumPack breaks that trend, bringing dual functionality in a small package, and it won't break the bank. Cobra tells us the JumPack will retail for around $130, and hit stores around April.