ClipperCreek LCS-25P Is The Smallest 240 V Plug And Cord EV Charging Station Available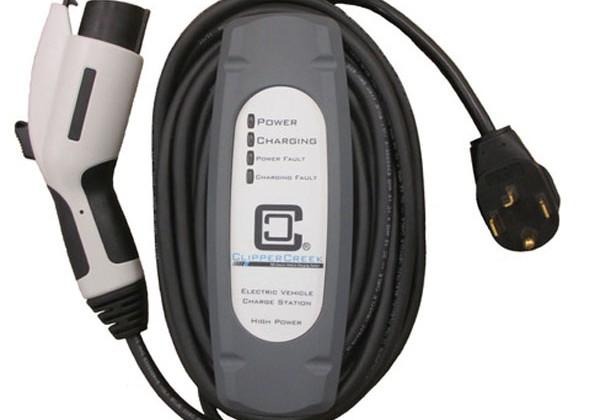 One of the things buyers of electric vehicles need to be able to use their vehicle is a charging station at home. Charging stations can range from an extension cord and a standard wall outlet up to more powerful 240 V level II charging systems. A company named ClipperCreek is unveiled a new electric vehicle charging station that it claims to be the smallest 240 V plug and cord charger around called the LCS-25P.
Despite its impressively small size, the charger delivers 20 A of Level 2 EV charging power. One of the best features is that this charging station has an integrated plug making it cheap to install with buyers only needing a 240 V outlet in the garage. Rather than having to wire the charging station directly into the homes power, it simply plugs into that 240 V outlet.
The LCS-25P is certified compatible for use on all plug-in electric vehicles including the Nissan Leaf, Chevrolet Volt, Ford EVs, the Tesla Model S, Honda Fit Electric, Toyota RAV4 EV and other electric vehicles. The charger requires a supply circuit of 208/240V and 30A.
There are two versions of this charger available with one using a NEMA 14-30 plug and the other using a NEMA L6-30 plug. Both feature a cord that is 25 feet long and an indoor rated fully sealed enclosure. The charger measures 11-inches long by four-inches wide by three-inches deep and either version is available for $549.
SOURCE: ClipperCreek