Clickfree HD325 & Transformer Backup Review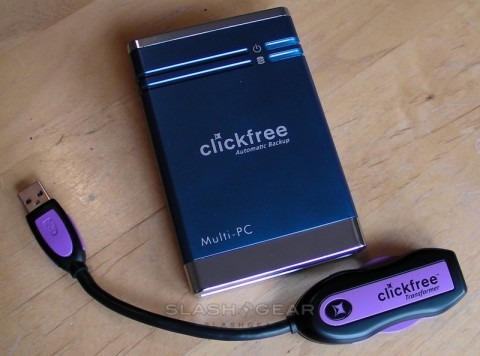 Backup remains a guilty chore, and one which most of us don't complete as often as we know we ought to.  Cheap USB drives certainly offer the storage, but it's still down to the user to make the most of them; that's where Clickfree comes in.  Their automatic backup is, according to the claims, easier than making toast.  SlashGear picked up the Clickfree HD325 hard-drive and Clickfree Transformer Cable to see if that was true.
Both of the Clickfree products work in pretty much the same way.  The standalone Clickfree HD325 is an all-in-one backup solution, offering 320GB of compact storage; the Clickfree Transformer Cable, meanwhile, lets you use your own external hard-drive or even a USB flash drive.  According to Clickfree, any portable backup drive, such as the HD325, manufactured after January 1st 2009 is Mac compatible, as is the Transformer Cable.
Setup is simple: in the case of the Transformer Cable you first have to hook up a USB hard-drive, then you plug either of them into a spare USB port.  After the typical minute or so as the drive is recognized (which only happens the first time), the Clickfree auto-backup wizard springs to life.  From here you can allow the software to collate the common files – documents, emails, images, music, etc. – or add in specific folders of which you'd prefer the entire contents to be saved.  There's no easy way to create a full drive mirror; the Clickfree is more about personal data than it is full system restores.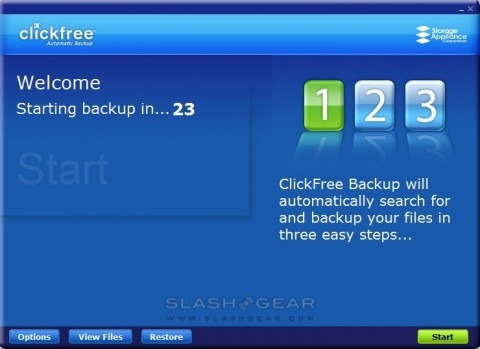 Once you've selected – or let the app select – the targets, Clickfree begins indexing the files.  As with installation, the first time takes the longest, as your whole hard-drive is scanned for relevant data.  This is more time-consuming than, say, focusing on just what's in the Vista "Documents" folder, say (or the equivalent in another OS), but it's also more thorough, scraping up personal files hidden elsewhere on the drive that may have been scattered by errant software.
After indexing the copying begins, and how long this takes depends on the number of files Clickfree has found and the speed of the hard-drive.  In the case of the HD325 that's a 5,400rpm 2.5-inch model with 8MB cache; with the Transformer Cable it depends on what you have to hand.  Subsequent backups – triggered by plugging the HD325 or Transformer Cable-equipped USB drive back into the computer – are much faster, as Clickfree only copies across new or altered data.  Old versions of files are preserved, and if you delete one from your computer it's not automatically deleted from the Clickfree drive; that takes up more space, yes, but it's very useful if you later realize you were too quick to empty the Recycle Bin.
Restoring data is similarly straightforward.  Triggered either from the Clickfree backup app or accessing the drive directly through the Explorer window (or equivalent), you can choose to restore individual files, browse through them (with an integrated picture viewer and media app) or restore the whole lot.  Rather than being slotted back into the directories they came from, Clickfree puts all data into a single Restored Files directory; that makes it easy to sift through, but does leave you with the chore of reorganizing afterward.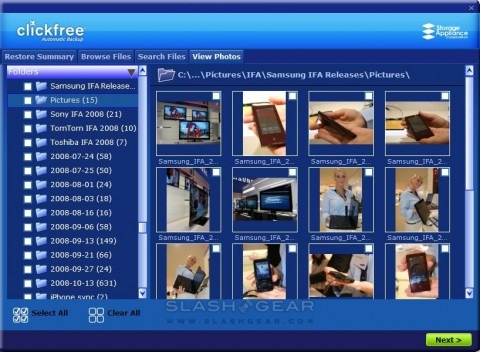 As backup systems go, it's getting close to foolproof.  Thanks to the nature of the Clickfree software it's possible to leave everything at its default setting and be confident that pretty much all the data you'd hope to have preserved after a system crash would be safe.  Alternatively, there's enough granularity of choice to save specific files or data sets that Clickfree might overlook, together with the knowledge that next time it will include them automatically.
It's not perfect, though.  There's no provision for scheduled backup – it simply runs when you plug it in, or when you manually load the Clickfree app – and experienced users might miss some of the flexibility on offer in more advanced systems.  We'd also like to see a hardware button on the drive or cable itself, rather than having to physically unplug the Clickfree every time, though at least that does promote storing the backup elsewhere as is good practice.
The Clickfree HD325 drive can be used with up to twenty different computers, keeping data on each distinct and separate.  As it's bus-powered it's probably the easier of the two products (there's a 5V DC input but no AC adapter supplied), though the Transformer Cable does have its own charms.  It's cheaper outright, assuming you already have an external drive or can pick one up cheaply, and it has no limitations on how many machines you can use it with.  You could also feasibly use it with a USB RAID hard-drive, and add in an extra layer of protection in case of drive failure, something the HD325 doesn't offer.
For the target audience, though, any sort of backup is likely to be an improvement: every year researchers declare how few people actually backup their data, generally prompting a couple of burnt DVDs and then a lapse back into laziness.  Clickfree certainly cuts through that, and if you're too lazy to plug in a USB cable once a week then perhaps there's no saving you.  The geek in us prefers the Clickfree Transformer cable – at $59.99 you get the clever software along with flexibility – but as an all-in-one solution the Clickfree HD325, at $179.99, is 320GB of sheer simplicity.