Clickfree C6 EASY Imaging Backs Up All Your Files, Software, And OS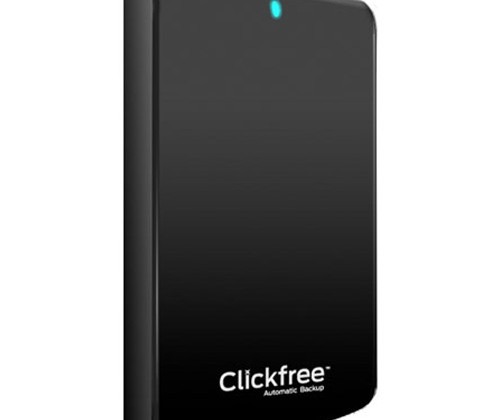 If you're looking for an easy backup solution that images your entire PC, copying not only your files but also all your software and OS, then Clickfree has got the ulimate device for you. The company has just unveiled a brand new external backup drive called the C6 Easy Imaging that's the easiest way, especially for non-techies, to ghost hard drives.
When it comes to backing up just files, there's a whole bunch of options out there. But a lot of times, when that fateful crash happens, especially if you're a small business owner, you just want to get your OS and all pertinent software back up and running ASAP. The C6 Easy Imaging aims to make this process effortless.
Not only can the C6 Easy Imaging back up everything automatically, it also offers very flexible restore options. Unlike competing products, the C6 Easy Imaging does not require you to also restore your files if all you need are the OS and software applications. This cuts down on the reimaging process so that you can be up and running fast. When you do restore files, you can even select which backed up version to restore.
The C6 Easy Imaging offers several user-friendly features includes the following:
• EASY Restore – Your complete personal file backup and photos can be easily transferred to the original computer or a new computer.

• EASY Run – automatically backs up your photos and other personal files, software programs and Windows operating system.

• EASY Music – easily import music from an iPod/iPhone/iPad into the iTunes on any computer

• EASY Viewer – view all backed up photos and other personal files just like on your original computer.

• EASY Organizer – automatically finds and organizes your photos and all other personal files for backup.

• Password Protection – easily protect backed up personal files with 256-bit hardware encryption.
Backups from multiple computers can be stored on one C6 Easy Imaging drive, limited only by the space available on the drive. The drive is available now on
and comes in a portable and desktop version with two capacity options each. The portable 500GB will cost you $140, 1TB is $180. The desktop 1TB is $150, while the 2TB is $180.