Clevo W860CU 3D and ASUS G51JX-3D bring 3D Vision to US shores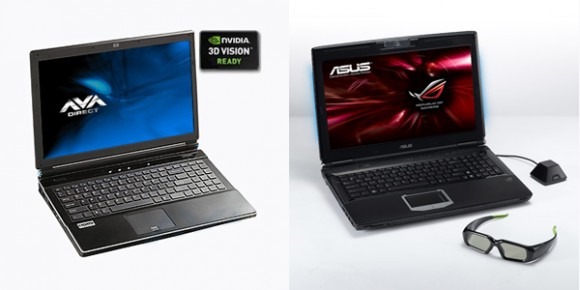 3D notebooks are gaining traction, and gamers now have a few more options to choose from.  AVADirect have picked up the ASUS G51JX-3D and the Clevo W880CU W860CU 3D, each toting NVIDIA's 3D Vision technology (that uses shutter glasses) and various CPUs from Intel's Core i5 and i7 ranges.
Both the G51JX-3D and W860CU 3D have 15.6-inch HD displays and NVIDIA graphics cards – a GeForce GTS 360M 1GB on the ASUS and a GeForce GTX 285M 1GB on the Clevo – while the former gets up to 6GB of DDR3 memory and the latter up to 8GB.  The ASUS is outfitted with a Core i7-720QM processor as standard, but there's more flexibility with the Clevo: that can have any of a range of Core i5 and i7 chips, together with optional SSDs.
Both systems come with a pair of 3D Vision glasses, and the Clevo can be custom painted (for a fee).  The ASUS G51JX-3D starts at around $1,600, while the Clevo W860CU 3D starts at around $1,800.
Press Release:
AVADirect Introduces Two New 3D Gaming Notebooks

AVADirect, a recognized leader in the computer industry, introduces two innovative 3D notebooks to its lineup of mobile platforms.

Just like the latest movies and televisions, notebooks are evolving from 2D to 3D. Powered by revolutionary NVIDIA® 3D Vision™ technology, hundreds of games, photos, movies, and websites can now be experienced in 3D today! Both the Clevo W860CU 3D and the ASUS G51JX-3D have all of the components necessary for 3D Vision™ integrated into a sleek, portable form factor. With the included pair of high-tech active shutter glasses, users can now experience crystal-clear 3D wherever and whenever they want.

The Clevo W860CU 3D 3D features a 15.6" HD display and blazing fast NVIDIA® GeForce® GTX 285M with 1GB of GDDR5 memory. Users can choose from the latest Intel® core i5 and i7 mobile CPUs and customize nearly every other facet of their 3D notebook, including the addition solid state drives,custom paint, and up to 8GB's of superfast 1333mhz DDR3 ram. Pricing for the new Clevo W860CU 3D starts around $1800.

The Asus G51JX-3D features a 15.6" HD display and a super-capable GeForce® GTS 360M with 1GB of GDDR5 memory. This is coupled with an Intel® Core i7-720QM processor and a massive 6GB's of DDR3 ram. Pricing for the Asus G51JX-3D starts around $1600.

Both notebooks come with all the components necessary for 3D Vision™, and are entirely compatible with 3D Vision™ Ready desktop monitors and projectors.

"Thanks to this impressive 3D technology, and our commitment to innovation, we are able to offer our customers the ultimate mobile 3D experience," says Misha Troshin, CMO and Co-Owner of AVADirect.