Clerks Wii Case Mod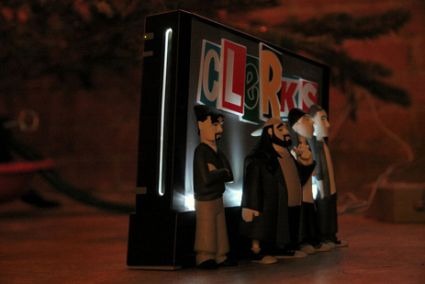 I will always be a die hard Kevin Smith fan, I have every single movie, including his Evenings with Kevin Smith. Which makes me one of the female fans which according to him are either rare or completely nonexistent. That being said, I would pretty much kill to snag a replica of this Clerks Wii.
Ramon Stokes was commissioned to create this mod as a Christmas present for Kevin Smith himself. One side is featuring the main characters from the Clerks animated series and the other side shows the logo for View Askew Productions.
The Nunchucks are printed on, one saying 'Kevin Smith and the other saying 'Silent Bob'. The mod took Ramon a total of 60 hours to make. Ramon Stokes has definitely become the go to guy for great Wii case mods. If you haven't seen and have no idea who Kevin Smith is, I recommend renting either MALLrats or Jay and Silent Bob Strike Back to get you started. Be warned though, once sucked into the Kevin Smith world there is no escape.
Wii casemod makes a quick stop into our hearts
[via wiifanboy]