ClarionMiND GPS MID gets unboxed, played with: Video Demo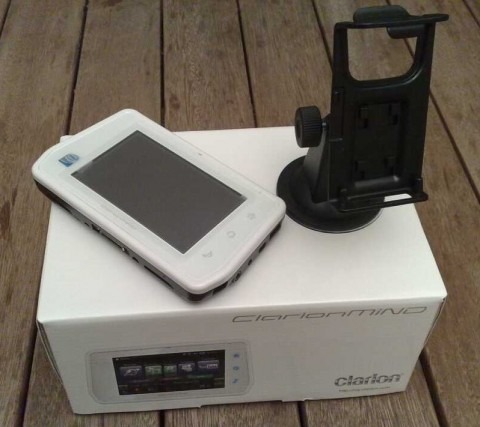 Clarion's navigation MID launched last November, but it's taken a while for hands-on experience with the GPS-enabled touchscreen device to emerge.  Clarion have also tweaked the name slightly, to ClarionMiND (with no space) over apparent "legal issues".  Steve Paine has been playing with the ClarionMiND for the MID Moves project, and despite some obvious drawbacks – a pitiful battery good for at most an hours standalone use, and the lack of 3G – Clarion have actually done what other MID manufacturers struggle to achieve.
Check out the ClarionMiND demo video after the cut
The entry-level model has a mere 6W battery, and relies on a Bluetooth DUN hook-up to your cellphone in order to get online when mobile.  Thankfully Clarion haven't left setting that up – and reconnecting it – to chance, and there's a whole settings area dedicated to making it straightforward.  Meanwhile navigation is reportedly "top notch", both fast at route calculations and with a smooth, polished GUI; it also has Google location search, plus the ability to transfer locations and routes you've worked out on your desktop PC, over to the ClarionMiND.
It's the GUI that best sets the ClarionMiND apart, though.  Where other Linux-based devices, such as the aigo P8860, frustrate with their less than ideal interfaces, the MiND manages to be both consistent and intuitive.  You can buy the ClarionMiND now, from around $650.