Clarion MAX973HD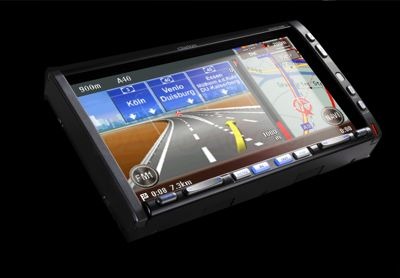 Clarion, proof that all it does take to make it in any business is to continually make the best products available, this unit is no different. Where most units that offer touch screen navigation and also have a DVD drive use that DVD drive for navigation, this one doesn't, which is a good thing.
Now you might wonder why it would matter if you used a DVD for navigation or not when you only have one screen, well that's just it, you can add extra monitors to this thing and display two different things from the main screen to the auxiliary ones. So you can navigate your way through hectic traffic while the kids(or chicks, whatever your motivation) in the back watch a DVD all from the same head unit.
There is also 30GB of integrated storage thanks to an included HDD. That's also where the navigation information is stored. There is also a 400MHz processor that will be built into your head unit. It's a double DIN unit so you will need some space to place this thing, but it will be well worth it. As always Clarion brings the best in audio processing to the table so you can customize your sound and get the most out of your audio. There is also an RDS TMC tuner that will bring you the latest in traffic information. No word on price or availability.
The New Clarion MAX973HD Multimedia Unit [via carpages]