Clarion MAP680 & MAP780 GPS with 3D mapping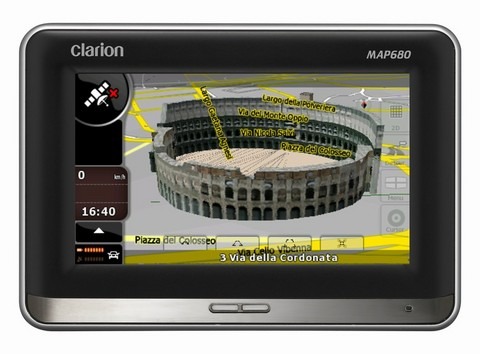 GPS manufacturers Clarion have announced their latest satnav systems, the MAP680 and MAP780. Using a full 4.3-inch wide-aspect touchscreen with anti-reflective coating, both units have an RDS-TMC tuner for traffic information and Bluetooth for handsfree cellphone use and A2DP music streaming. Most striking, however, is the full 3D mapping that gives a windscreen-view of what the driver should be seeing.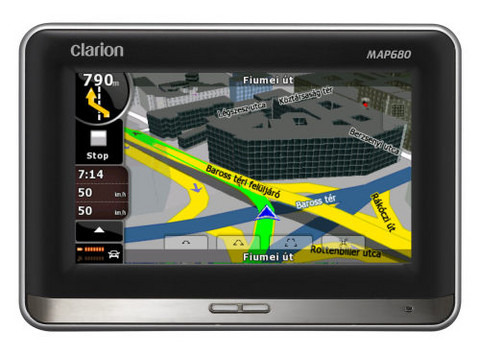 Both devices have a lane assistant, information about the current speed limit and a phonetically correct voice guidance for street names. However where the MAP780 has 2GB of onboard memory, the MAP680 has only 1GB. The media player can handle MP3 and WMA audio files and AVI, WMV, 3GP and MP4 video files. An SD/MMC slot can be used to add extra storage (up to 4GB).
Initially four geographical versions of the MAP680 will be offered:
MAP680DEU (Germany, Austria, Liechtenstein, Switzerland)
MAP680FRA (France, Monaco, Belgium, Netherlands)
MAP680UKI (England, Ireland)
MAP680EEU Eastern Europe (BosniaHrz, Bulgaria, Croatia, Greece, Hungary, Montenegro, Poland, Romania, Serbia, Slovakia, Turkey, Ukraine, Czech Rep., Estonia, Lithuania, Latvia, Slovenia)
The MAP780 includes mapping for 43 countries. No pricing or availability details have been announced.
[via NaviGadget]