Cirago CST6000 USB 3.0 portable HDD lands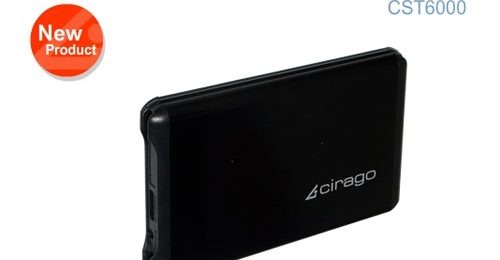 The number of external storage solutions that use the USB 3.0 port is growing every day. The latest USB 3.0 storage offering comes from Cirago and is called the CST6000. The drive uses USB 3.0 connectivity and has a small, pocketsize chassis. The device is backwards compatible with older USB ports as well.
The drive can be used to share data, video, music, and other types of content and is Plug and Play compatible. The storage device will work with Windows, Mac, and Linux computers and has a LED power indicator. The small drive measures 3.25" x 5 1/3" x 0.5" making it one of the slimmest USB 3.0 drives around.
Cirago will offer the storage solution in several capacities including 250GB, 320GB, 500GB, and 640GB versions. Pricing ranges from $69.99 to $99.99 and each drive comes with the USB 3.0 cable, auxiliary power cable, and a carry pouch. The drive can be purchased now at major online retailers like Newegg.com and Amazon among others.