Chuwi W3000 PMP Reviewed: Better MID Than SmartQ Managed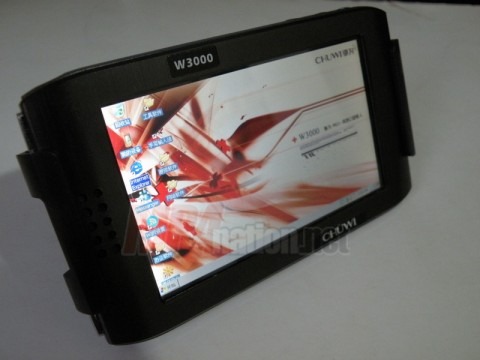 Chuwi's W3000 still looks unlikely to arrive on US or European shelves any time soon, but that hasn't dulled the enthusiasm of the guys over at MP4 Nation.  They've been putting the 4.1-inch touchscreen PMP through its paces, and finding that in contrast to the SmartQ 5, the W3000 actually does a good job both as a media player and as an internet device.
Chuwi have modified the standard Windows CE version of Internet Explorer, and it apparently renders sites far better than the normal build.  However there's still no Flash support, which means video sites like YouTube and Hulu are no-go areas.  Instead, you'll be looking to play FLV, RMVP, MP4 and AVI video on the PMP, and happily it's all reportedly smooth and has a handy TV output for larger-screen entertainment. 
Unfortunately, despite being Windows CE based the W3000 proved unhappy with the GAPI gaming/application API, which limits its software flexibility.  Still, out of the box there's WiFi support, a microSD card slot, USB host port and a decent media player front-end.  It remains to be seen whether Chuwi develop a version of the W3000 for export – right now it only has a Chinese version of CE running – but if they do, expect it to come in at under $170 for the 8GB and under $140 for the 2GB model.