Chuwi Vi10 Plus does a Surface 3 with Windows 10, Remix OS combo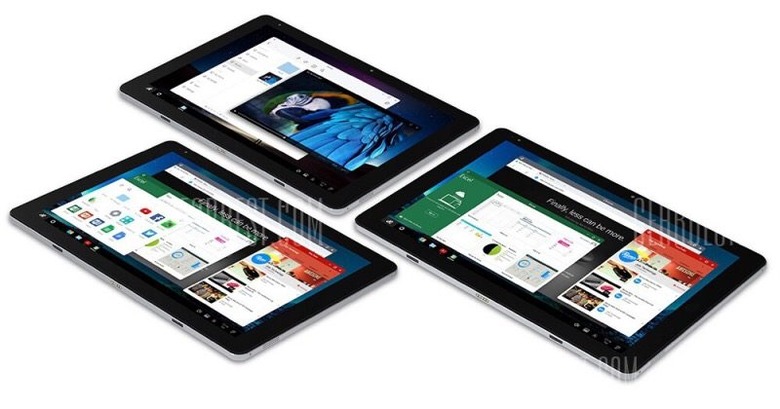 Naysayers might refuse to admit it, but Microsoft definitely set a trend with its Surface line of tablets. In addition to promoting the idea of Windows, 8.1 and 10 in particular, as a serviceable 2-in-1 tablet-and-laptop operating system, the very design of the Surface has inspired not a few other devices of different price ranges, from the uber expensive to the dirt cheap. The new Chuwi Vi10 Plus unabashedly falls under the latter. But let not that price tag fool you, as this tablet pretty much takes the Surface 3 head on with a deadly Windows and Android double punch.
Although it doesn't 100% "copy" the Surface's design, the telltale signs are there, with an aluminum body and sharp, flat edges. Even the screen size and the resolution are a match, at 10.8 inches and 1920x1280 pixels. Almost comically, Chuwi seems to have also followed in Microsoft's footsteps in making the oh so essential keyboard cover, which resembles more Apple's Smart Keyboard, as a separate purchase. Same with the HiPen stylus.
There are, of course, clear differences. The CPU, for one, isn't as powerful, with an Intel Atom x5-Z8300 on the Chuwi and an Atom x7-Z8700 on the Surface 3. There are two choices of memory, with a 2 GB RAM and 32 GB storage combo and 4 GB RAM and 64 GB model. Those two also determine what operating systems are available, which is where the Chuwi Vi10 Plus dares to be different.
The lower spec model, given its, well, lower specs, is better suited to run the Android-based Remix OS, which, while still Android, delivers a desktop-like experience, with floating, movable, resizable windows, taskbar, and all. The one with more memory, on the other hand, runs both Windows 10 and Remix OS. Microsoft and Google have traditionally been against such a mashup, but Chinese manufacturers haven't exactly been one to follow convention.
The biggest difference between the Chuwi Vi10 Plus and the Surface 3 is the price. While the Surface 3 goes for $499, the Chuwi tablet starts at $169 for the 2 GB RAM model and all the way up to $239 for the dual boot configuration. The keyboard cover and HiPen stylus are sold separately, which could push the price up a bit, but probably not by much. Although the Chuwi Vi10 Plus has supposedly already launched, not many retailer has it in stock yet. Prices for the accessories also remain unknown.