Chuwi CoreBook brings the fight to the iPad Pro's doorstep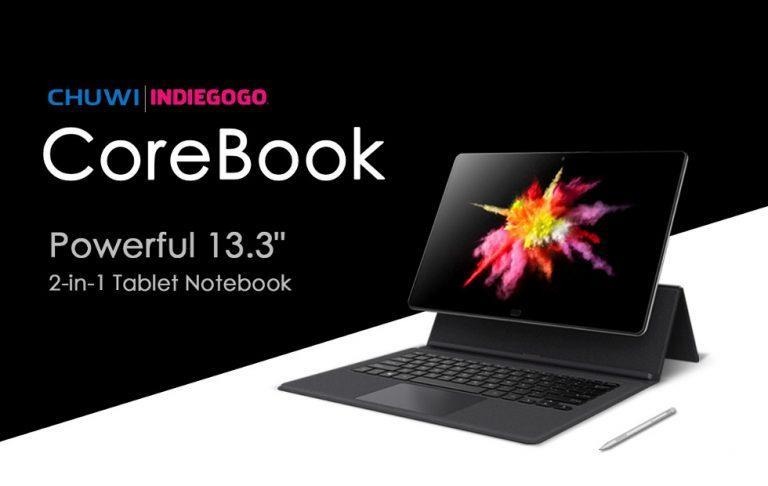 Chuwi has been boldly pitting its products against some of the biggest tech companies in both name and design. The SurBook faced off with the Microsoft Surface Pro and the LapBook Air against the Apple MacBook Air. The CoreBook, the company's latest baby, probably won't ring any bell. But the moment you look at it, you'll most likely get the idea. The Chuwi CoreBook is practically what you'll get if you took an iPad Pro and put Windows 10 on it. And that might be a good thing.
We recently reviewed the Chuwi SurBook and, while the device itself was quite impressive for its price, the experience was ruined by the keyboard cover. It's still too early to tell if Chuwi has addressed that in the CoreBook, but the company has mixed things up so much that you'd be hopefully they did.
The CoreBook looks more like an iPad Pro than a Surface Pro, with its soft, rounded edges and a 2.5D curved glass. The black bezels make it seem like there are none, but there's still a good amount around the 13.3-inch panel, now fully laminated, fortunately. Unfortunately, the resolution has been reduced to 1920x1080 now, versus the SurBook's staggering 2736x1824. The body, while still full aluminum alloy, is now thinner. Sadly, something had to give, and instead of two full-sized USB A ports and one USB-C port, the CoreBook is down to one micro USB and one USB-C 3.0 ports.
Inside, the CoreBook barely changed compared to the SurBook except in one very important part: the processor. Instead of an Intel Celeron, Chuwi has finally made the jump to an Intel Core processor, though just a Core m, specifically an M3-7Y30, for now. It still has 6 GB of RAM and a 10,000 mAh battery. Sadly, Chuwi wasn't able to squeeze in an SSD storage without bumping up the price.
Gone too is the Surface-like kickstand. Instead, Chuwi "borrows" an idea from the Huawei MateBook E. The cover itself provides the stand, with a hinge that can go as far as 165 degrees. Chuwi promises that the hinge on the back survives more than 20,000 flippings, but it's really the trackpad quality that we're interested in.
With the CoreBook, Chuwi added features but also took away some. The end result, at least as far as price is concerned, is something not that much higher than the $439 SurBook when it launched on Indiegogo. Although the full retail price of the CoreBook will be $599, you will be able to get one for $459 within the next 2 months, or at least until the Indiegogo slots run out. But if you hurry, you can grab the CoreBook with the keyboard and HiPen H3 as a set for $499.
VIA: Indiegogo