Chrysler Portal Concept courts Millennials, emphasizes connectivity and comfort at CES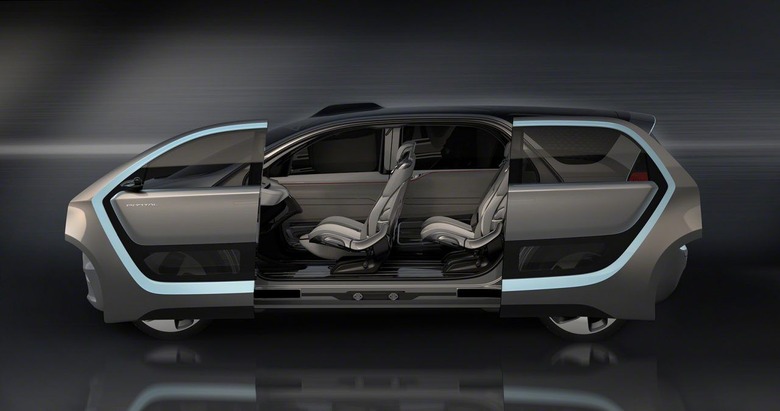 Want to take a risk in the auto business? Skip the nation's largest auto show, held in your hometown of Detroit, and instead choose to debut an all-new concept car the week before at CES in Las Vegas, Nevada. Want to double-down on that bet? Make sure your concept is targeted at 'Millennials' – specifically, those with families. That's the strategy employed by FCA with the unveiling of the Chrysler Portal EV.
In some ways, it's a forward thinking strategy. As someone who is frequently lumped in to the Millennial generation, I can assure you that one day my cohort will eventually put down its tablets and smart phones and make an effort at breeding. When that day comes, the Chrysler Portal will be waiting for them – and it will apparently be exactly what they (we?) are looking for, given that the automaker stresses it went out its way to consult the younger set on what they might one day want in this type of high capacity hauler (or at least the subset of that demographic who happens to be working within the FCA design and engineering structure).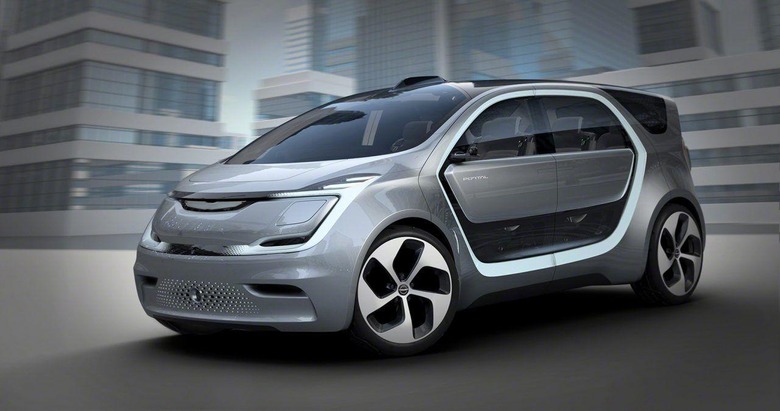 The Portal's minivan roots are easy to spot by way of its boxy shape, but there are definitely some interesting touches to be found throughout the design. The four-passenger vehicle features a set of doors on each side that slide open front and rear to reveal and enormous gap that facilitates entry and highlights the pains that FCA has taken to maximize interior volume for the concept. Each throne can slide as far forward or rearward as desired on a set of floor tracks, and they can also be folded out of the way to enhance utility.
The dashboard is a starship control console complete with yoke and integrated sets of display screens, including an enormous angled dashboard LCD. More traditional Millennials will be pleased to see that Chrysler has included an analog volume knob for its infotainment features, which makes the all-black presentation that much easier to interact with on the fly. Of course the vehicle also provides 'docking stations' for charging phones and devices, with 10 sprinkled throughout the cabin. Other gee-whiz gear found inside the Portal: a facial and voice recognition system in place of a traditional key, an unusual system that zooms in on certain exterior sounds to alert the driver to oncoming traffic, and an in-car media sharing system.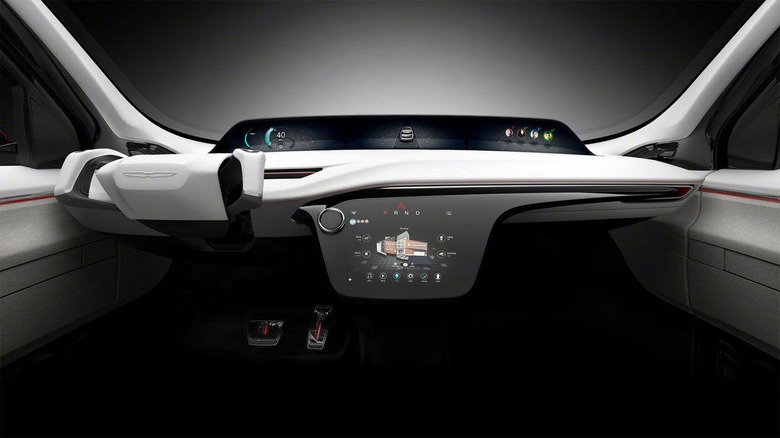 The Chrysler Portal is motivated by an electric motor, and while output remains a mystery the company has mentioned that its lithium-ion battery pack is rated at 100 kWh, giving the vehicle a functional range of roughly 250 miles. With the ability to use DC Fast Charge technology, a 20-minute plug-in session yields 150 miles of driving. If you don't feel like doing much behind the wheel, then the Portal has your back by way of its SAE Level 3 autonomous driving technology (including vehicle-to-infrastructure communications) which can pilot the concept in certain situations). In a nod to the corporate synergies inherent in future vehicle design, a significant portion of the Portal's gear came from off-the-shelf products provided by third-party suppliers, including Magneti Marelli, Panasonic, Adient, and Samsung.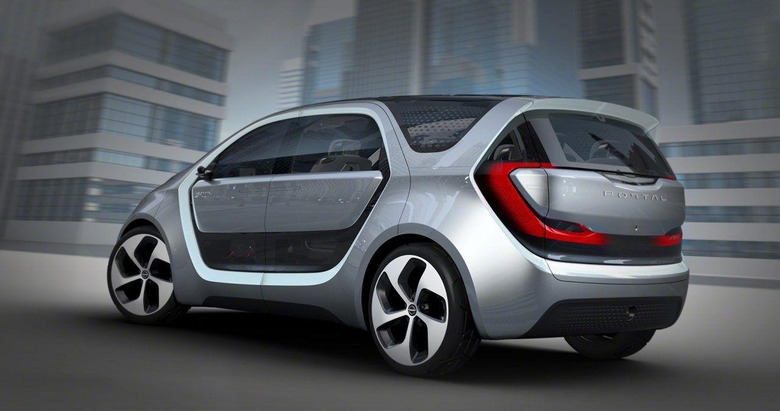 It's unlikely that the Portal will ever see the inside of a Chrysler showroom in production form, but more important for the brand will be gauging how the crowd at CES – and the millions of potential Millennial buyers around the world – react to the technologies being put on display by the vehicle. The battle for the hearts and minds of future motorists may very well hinge on creating the kind of calm and comfortable traveling environment on offer by the Portal, rather than pegging adrenaline levels or delivering what could be considered an engaging driving experience.