Chrome OS update brings folders, added security features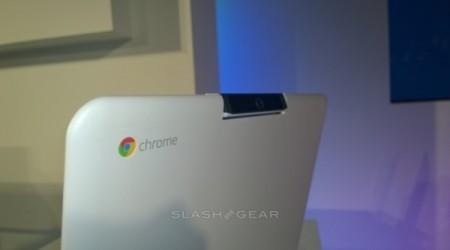 Save for two devices, all Chrome OS devices are getting a tidy update today. Aside from the bug fixes present in every update, this one brings in folders to the app launcher and user-requested video controls. Chrome OS is also getting a little more word-y, as Google rolls in hotwords on the new tab page.
Another neat feature is captive portal detection. Now, when you're in a cafe or other public WiFi spot, Chrome OS will protect you even further. When you're signed in, Chrome OS can detect that the network wants you to agree to their terms (the captive portal is the page that springs up ahead of all others asking you to sign-in at hotels, etc.), effectively using the browser as a security layer.
The minimize window button is back, and Google says "the left/right tiling of windows can be done via long-press on the maximize button". The "Ok Google" hotword function is now available via the new tab page, too, but that change only applies to English-speaking users in the US.
Folders let you organize your apps as you see fit, letting you corral them in the launcher by type. No more scrolling through multiple pages and trying to organize those pages in the launcher. Now, you can create subsets of apps via folders, an organizational dream.
The update is rolling out now, so check your Settings > Help for version 35.0.1916.116. If you don't have it, it will likely prompt you, so just hold on until Google is ready to have you. As for those two devices not getting the update? If you have a Series 3 Chromebox from Samsung or ASUS Chromebox, you're out of luck.
Source: Google