Chrome OS Linux support brings Android Studio to Chromebooks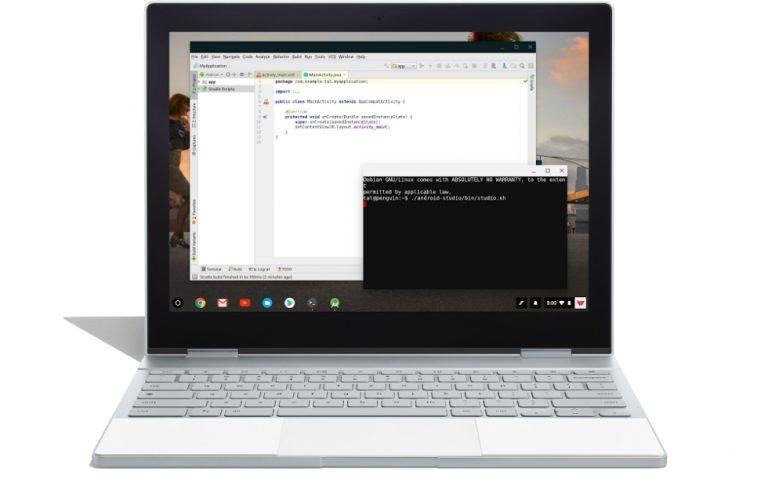 Chrome OS is slowly but surely transforming into an all-in-one, general purpose operating system, the Google OS that many might have been waiting for. While running Windows software is still a bit roundabout, Chrome OS already supports directly running Android apps and, announced at I/O 2018, now Linux apps as well. More than just simply increasing the number of things you can run on a Chromebook, this move opens up the platform for development, including creating Android apps right on Chromebooks.
Chromebooks have really outgrown their initial purpose as cloud-centric, underpowered, energy-efficient, and affordable machines for school and offices. In addition to increased prices, Chromebooks now come in all forms and sizes, including convertibles and detachables. Some even come with styluses.
All throughout, however, Chrome OS mostly maintained its academic bent. With its new Linux virtual machine, however, it now targets a new market: developers. It is practically the same strategy Microsoft used when it debuted the Windows Subsystem for Linux (WSL), which enticed web developers and server admins to continue doing what they do best while still using Windows 10.
There is one big difference though. Chrome OS can run graphical Linux software as well. While that opens up a world of possibilities, Google is hoping it will be used to develop apps for its platforms, namely the Web and Android. And yes, that means running Android Studio on Chromebooks.
Google notes that Linux runs on a virtual machine. While it is optimized to be fast, it is still a virtual machine, which will always be slower than native. For now, it is still in preview and will be available for the Pixelbook soon. How long it will take for other powerful Chromebooks to get it, only Google knows.