Chrome OS dev 53 update brings the promised Google Play Store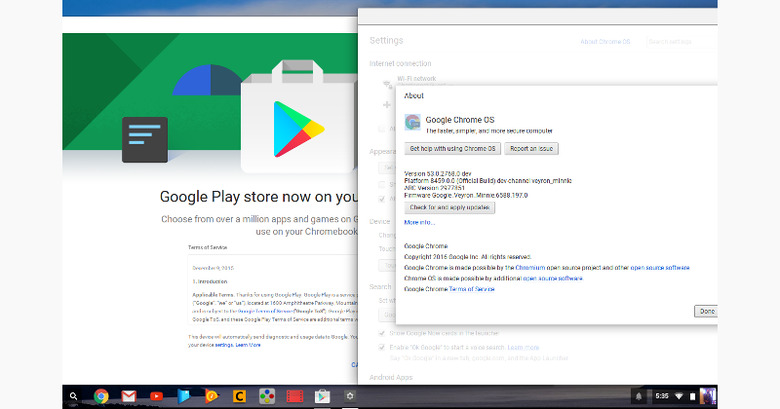 It seems that the promised day for Chome OS users has finally arrived. At least for those users who happen to own an ASUS Chromebook Flip and are running the experimental dev version of the OS. Reports are coming in that the latest version 53 of the dev channel is greeting them with a surprise welcome message announcing the arrival of Google Play Store on their Chromebook. There are still some rough edges and unanswered questions, but for some lucky users, it's the start of a renewed friendship with their Chromebooks.
Google's long-term goals and ulterior motive are still in question, but fact of the matter is, it's bringing Android to Chrome OS in a massive way. Unlike the extremely limited and buggy ARC implementation of the past, now Google Play Store itself is available in Chrome OS, and with it the wealth of Android apps in the market. Well, almost.
There are a few gotchas that Google may have not yet fully ironed out. According to early testers, Chromebooks are identified as tablets and do not have access to phone-only apps. That might make sense in some circumstances, like trying install Google Cardboard on a laptop, but apps like Instagram will be missed. Some phone apps that can be installed, however, still don't work well. And at least one user claims that previously purchased apps show up in the Play Store as unpurchased.
Perhaps the bitterest pill for some Chromebook owners at the moment is that the new feature seems to be only available on the Chromebook Flip for now. Only three Chromebooks were announced to be getting Goole Play Store, the other two being the Acer Chromebook R11 and Google's own 2015 Chromebook Pixel. Neither one has received the feature even with the update.
That said, these are all still in their beginning stages and could very well all be fixed by the time the stable version rolls out. But now that the cat's out of the bag, Chromebook users will most likely be eager to experience it for themselves ASAP.
VIA: Reddit