Chrome "OK Google" extension adds hands-free search

Google has released an "OK Google" spoken search extension for Chrome, enabling hands-free queries similar to the functionality offered in Android 4.4 KitKat. The free Google Voice Search Hotword extension builds on the existing support Google search has for spoken terms by adding an always-listening trigger, rather than requiring users to actually click the microphone button.
Searches for regular terms aren't the only thing the system allows, however. Other existing features – like converting different measurements, such as fahrenheit to celsius – are also supported.
It's also possible to set timers by voice command; Google is billing it as an ideal way to remember to baste a Thanksgiving turkey, but it's also handy if you're on a work deadline. Of course, it's still possible to do that now with Google, typing in "Set a timer for X minutes", but the extension keeps it hands-off.
Just as we found with the Nexus 5, however, there are some drawbacks to the system as it stands. For a start, you'll need to have a Google tab open in Chrome, and it needs to have focus on your desktop; there's no way to just call out "OK Google" and have the browser respond no matter what other tasks you're in the middle of.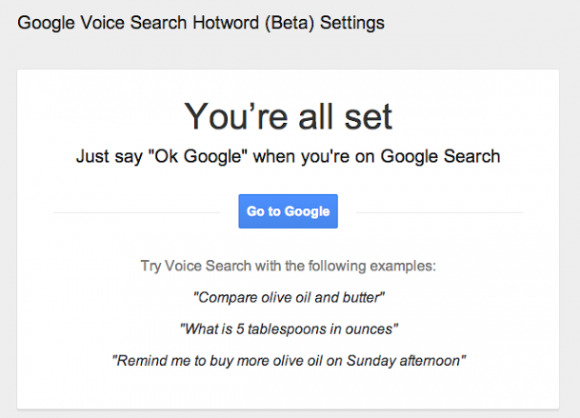 In that way, we still prefer the always-listening system on the Moto X, which can be triggered even when the phone is on standby. Still, it's a neat addition to Chrome; you'll need to be running version 31 or above of the browser in order to install it.