Chrome for Android leaving beta "in a matter of weeks"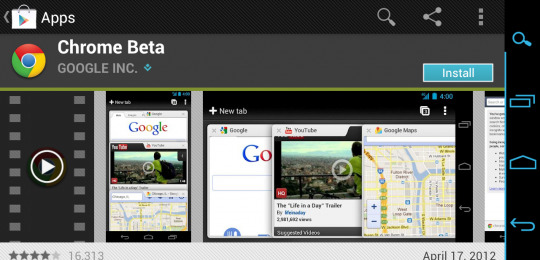 Google first released Chrome for Android back in February, and it was met with a warm reception. It featured a more intuative UI over the stock browser, and while it sacrificed a little in raw performance, it brought some additional features to the table like tab syncing. The browser did launch as a beta though, leaving many wondering when the final version would arrive. Wonder no more: Sundar Pichai, senior vice president of Chrome and Apps for Google, has said that Chrome will lose its beta status "in a matter of weeks."
"How many weeks?" is the real question, although Pichai didn't reveal any more details than that. Google has been hard at work updating the browser though, making regular updates and constantly adding features as well as squashing bugs. Just last week, desktop mode was added, allowing you to easily switch between the mobile and desktop versions of websites. Download support has also been included, something that was sorely missed by Android power users.
The only thing really holding back Chrome for Android is that it's only available for Ice Cream Sandwich. That leaves a lot of devices out in the cold, especially when ICS only accounts for 2.9% of Android installs right now. Having said that, Chrome probably has dependencies that would only work correctly on ICS, so maybe it's better to ensure it works 100% correctly on one OS version rather than be buggy across several.
[via Android Community]