Chrome Event Announced by Google Team for Publishers [UPDATE]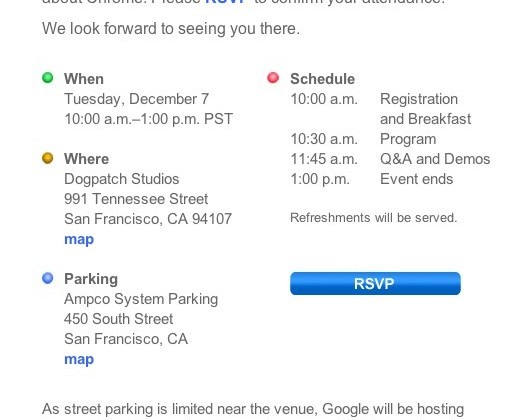 Joy of all joys! An invite! This invite was sent out today to publishers asking them to attend a special event held by and about Google Chrome. This event invite lets us in on some super secrets already, such as it's location at Dogpatch Studios in San Francisco, the fact that there'll be breakfast there, yum! And that there'll be a DEMO portion of the event. Could this mean what I think it means?
We'll certainly be there and you can follow along with us live on the day of here on SlashGear. Get your eyeballs peeled and your clickers clicking because it's going to be something spectacular, I can feel it!
UPDATE! A new message has been sent out adding info surrounding the event, including the address where everyone can see the event live:
On December 7, we will host an event in San Francisco where we plan to share some exciting news about Chrome.

The event will be webcast live on YouTube at: www.youtube.com/googlechrome. Mark your calendars for 10:30 a.m. PST and tune in.

Thanks!