Chromatic hubs from Brando add some color to your workspace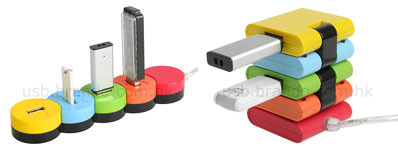 Here's a couple of crazy USB hub, because I'm sure you don't have enough. These come to us from Brando, who is well known for making almost anything you can imagine that has a USB port.
The Chromatic Hubs are very colorful, so for those of you that think your desk is too bland, they'll certainly add some color. One of the hubs is basically just a line of circles hooked together with USB ports. The other is a set of squares that are linked together, though they aren't stationary.
The hubs are a bit cheesy in my opinion, but at least they're cheap. Each one has 4 USB ports, and do not require A/C power. They can be yours for $12 each.
Brando Introduces Two Chromatic USB Hubs [via everythingusb]