Chips Bluetooth Helmet Speakers Offer Audio And Smartphone Connectivity On The Slope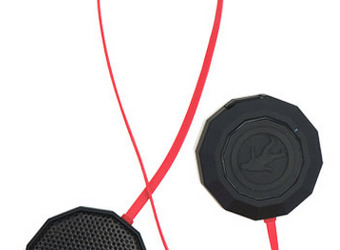 Music is befitting for a variety of activities, not the least of which are outdoor sports that require a helmet. While earbuds can work in such a situation, they're not entirely ideal, and that is where Outdoor Technology's new Chips Bluetooth headphones come in. Unlike traditional headphones, the Chips setup features two speakers connected by a flat band designed for use with helmets.
The Chips speakers are being targeted towards skiers and snowboarders, though it appears they'd work just as well for skateboarders and others who wear a helmet. The design is meant to make adjusting audio and answering/ending phone calls simple with as little involvement has necessary, so that one can, for example, turn up the volume while gliding down the slope.
This works by having the outside edge of each speaker equipped with a large push button. As you can see in the image below, the left speaker functions as the volume control, allowing the wearer to turn it up or down using single and double clicks. The right speaker functions in the same way, but is used for playing and pausing audio or answering and hanging up a phone call, depending on which is applicable in the moment.

The only requirement for using the speakers is that the helmet must have an audio liner. That aside, they can be connected to any Bluetooth device. Because Chips is also meant to work as a headset to take phone calls without having to, for example, remove gloves, it also features an integrated microphone. Obviously, the unit is water resistant to IPX4 specifications.
The device is powered by a lithium-ion battery, and is said to have a play time of between 9 and 10 hours and a standby time of 280 hours. The wireless range works up to 30 feet, and the drivers are a fairly large 40mm. The volume can go up to 120 decibels, and the unit can be charged using a standard USB cable.
The Chips headphones will be available on September 1 for $129.99 USD.
SOURCE: Gizmodo