Chinese astronauts achieve milestone after milestone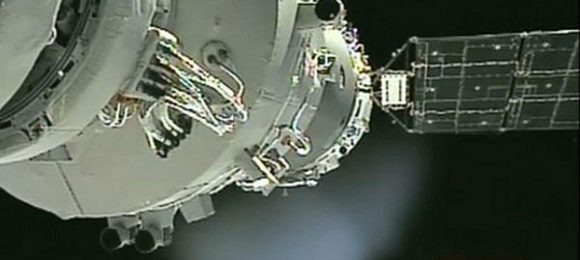 This Sunday was the first time a manned Chinese spacecraft successfully docked with another spacecraft, this being just one of several brand new achievements of the crew that blasted off last week. This crew aboard the Shenzhou 9 spacecraft also included the first female astronaut in the history of China, and makes up only the four crew of humans sent from China to explore space. This mission was launched in order to test the viability of the craft the Chinese already had in space and will be part of the decision on how China chooses to proceed with their space program from here on out.
Chinese astronauts Liu Wang, Jing Haipeng and Liu Yang were launched into orbit on June 16th and had a mission to connect with the unmanned Tiangong 1 module in orbit late in the week. This mission is now officially a success, and all docking has been successful. The module was (and is) roughly the size of a city bus and will pave the way for future much larger space stations for the Chinese in the future.
Tiangong 1 has been in space and in orbit since September of 2011, with the last mission to reach the craft being the Shenzhou 8 capsule in November. This capsule was a robotic docking mission and was also a grand success. Have a peek at a celebration the Chinese had upon reaching this, their most recent space-based achievement.
[via CSM]