China Unicom to get iPhone 3G in October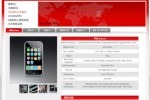 We already know that Apple and China Unicom are bringing the iPhone 3G officially to the China Unicom mobile phone network. What we didn't know until now was a more precise date when that would happen.Yahoo Tech reports that Unicom will start selling the iPhone 3G to customers on its network in October. October is also the date when the mobile provider will start offering its first 3G service. The iPhone 3G will sell at an unsubsidized price on china Unicom of 5,000 yuan or about $732.50. That is a lot of scratch for an area where the average urban income annually is a mere $1,058.
China Unicom will offer subsidies to those who agree to certain mobile plans. The tariffs will reduce the cost of the device significantly. The subsidies will run from 893 yuan to 4,253 yuan with plans running from 126 yuan to 866 yuan monthly.