China to surpass US to become largest smartphone market

China is said to pass the US to become the world's largest smartphone market, with 246 million Android and iOS devices predicted to be activated by the end of February. Back in January, the US and China were nearly neck and neck, with 222 million devices for the US and 221 million for China. This will mark the first time China has taken the crown.
Compared to China's 246 million, the US will see 230 million devices by the end of the month, but it won't be enough to keep its title over China. The US has seen ups and downs over the past two years, while China has continued to see exponential growth since January 2011. And at this point, it doesn't look like the US will be able to retake the top spot either, according to Flurry.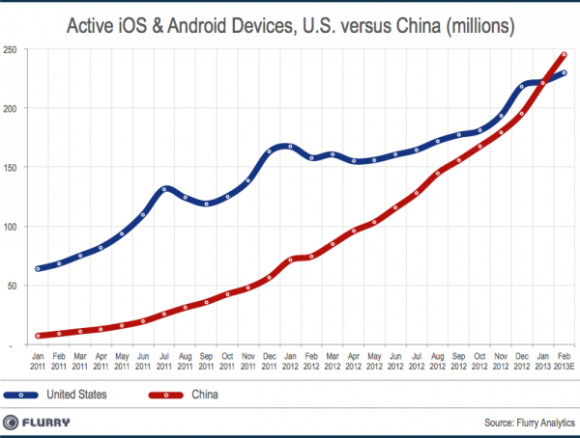 The vast difference in population between the two countries is one of the biggest reasons for China's overtaking. The country has over 1.3 billion residents, compared to the US's 310 million. Granted, the US has a higher percentage of smartphones compared to the total population, but we're merely just talking about total smartphone devices.
Flurry notes that the only other country that could possibly overtake China in the future is India. The country has a population of just over 1.2 billion, and that could put some serious competition in the way of China. However, India only has 19 million active devices, so it may be a few years before India catches up with China, if ever.