China Mobile iPhone launch brings Tim Cook in person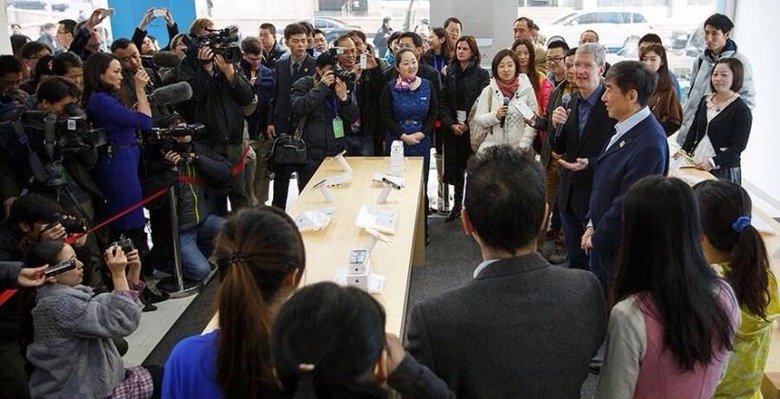 Supposing you were at China Mobile's headquarters store in Beijing on the 16th of January, 2014, you may have been part of the iPhone launch – one that brought Apple CEO Tim Cook to the store to shake hands personally. This launch has been a long time coming, with Apple aiming to move into China for several years and China Mobile being one of the more important steps toward a large spread. Cook visited the headquarters store of China Mobile and helped with distribution – at least for the first few phones.
Autographing several of the first customers boxes, Cook made certain the launch of China Mobile's iPhone collection was done with a bang. The company suggested this week that they'd already had 1 million pre-orders of various iPhone models, while according to Apple Insider, estimates for Apple's boost in sales for 2014 due to this China Mobile addition could be 12 million units or more. That's throughout the year – and for the most part sold directly by China Mobile itself.
Cook took to Twitter to share his appearance at the China Mobile headquarters store location – as you'll see above – and spoke briefly on how happy Apple was to be part of the carrier. Oddly enough, he was also asked at least one question – if it'll ever exist, when will an iPhone with a larger display be released? Cook's answer was quite simple:
"We never talk about future things. We have great things we are working on but we want to keep them secret. That way you will be so much happier when you see it." – Tim Cook
This bit comes from Bloomberg where they suggest China Mobile may sell around 10 million iPhone units this year. This slightly lower estimate comes from Hong Kong-based analyst with HSBC Holdings Plc Tucker Grinnan, and Beijing-based analyst with market researcher IDC James Yan.