China's Unveils Homegrown 300kmh Bullet Train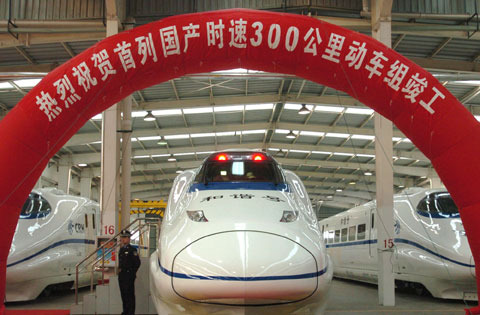 China is to claim the world 2nd fastest commercial bullet train at 300kmh, 20kmh shy of France's Train Grande Vitesse. Current fastest domestic trains run at services speed of up to 250kmh, a newer and 50kmh faster model, rolled off the production line this weekend and has a schedule to put on service between Beijing – Tainjin route just in time before the Beijing Olympics in August 2008. Xinhua news agency reported that the China self-designed and developed 8-carrieges train can seat about 600 passengers, weighted in 7 tons of aluminum alloy and will reduce travel time between the two cities from 80 minutes to around 30 minutes.
The China railways ministry spokesman Wang Yongping also told the new agency that "This marks that China has joined an elite world club after Japan, France and Germany to become the fourth country capable of turning out such high-speed trains" If The US has adopted the speedy Bullet Train technology long ago, I could used the service from Dallas to CES show in less than 4 hours without the hassle of TSA's airport security regulation, probably carry case of home brewed kool–Aid for the gang as well.
China unveils new 300-km-per-hour bullet train [via chinadaily]