Chime wants to be the Keurig of chai tea: Hands-on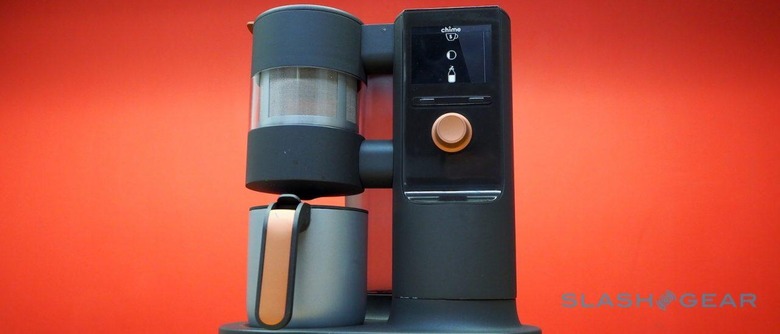 Chai tea is a complicated thing, and startup Chime wants to give it the same geek upgrade coffee has seen over the past five years. Though you wouldn't necessarily know it to drink the syrupy Starbucks beverage claiming to be a chai latte, a proper cup of chai tea takes some serious effort to prepare: Chime is promising to address all that, with the convenience of a Keurig but the authenticity of a hand-made drink.
There are, Chime creator Gaurav Chawla explained to me, some clear reasons why chai tea has fallen behind other drinks in the convenience stakes. At its core it's a simple recipe – water, milk, tea, and spices – but the preparation process can be a chore.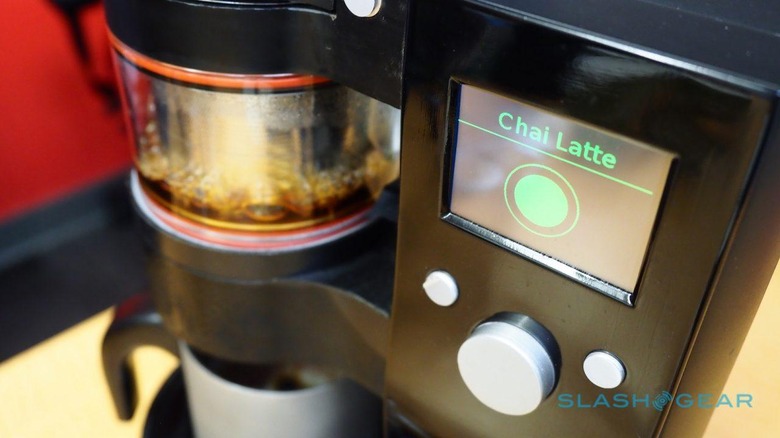 You have to boil the milk, usually in a small saucepan, with the water, tea, and spices, and keep whisking it to make sure it doesn't froth out over the top or get an unpleasant film on top. Once it's brewed, and while you're trying to enjoy your tea, the boiled milk inevitably cools and sticks to the pan.
Chawla tried a few existing convenience drink machines to see if he could tweak them to make chai tea instead, but says he struggled to get results anywhere near authentic chai. Coffee machines that foam milk are designed to take it to around 65-degrees, far less than what real chai requires.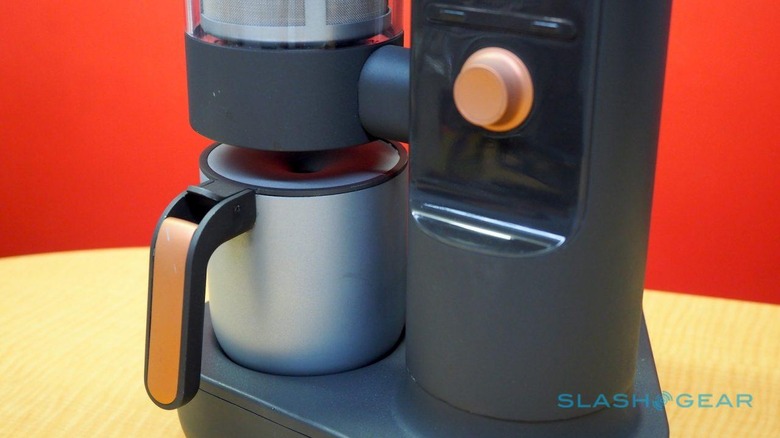 Chime's solution – the handiwork of two years of testing and prototypes – involves separating out the liquids into two separate, concurrent processes. At the top, the pod of tea and spices is popped into a stainless steel brewing chamber, where the water is heated and introduced to brew it.
At the bottom, meanwhile, an inductive heating coil brings the milk to a boil in a separate jug, complete with a built-in whisking impeller blade to froth it. Most recently, that's gained a non-stick coating so that boiled milk doesn't glue itself to it.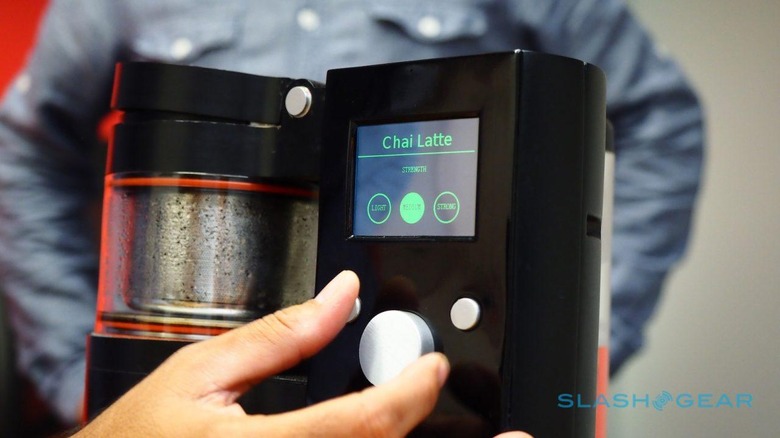 The brewing process is similar to a super-automatic coffee machine. A tea and spice pod slots in at the top, then using the metal knob you set the variables of your drink – proportion of milk to water, desired strength, size of drink between 6-12 oz, etc – and then press it to start the process. Tea brews while milk boils and is whisked, and then after two minutes or so they're all mixed together and the drink is ready.
Chime will offer five different pods initially, which it calls "caps": black tea, cardamom, ginger, cardamon ginger, and masala. The goal, Chawla tells me, is to set up partnerships with tea producers creating their own caps; initially, though, they'll be $1 a cap from Chime, with subscription packages to follow.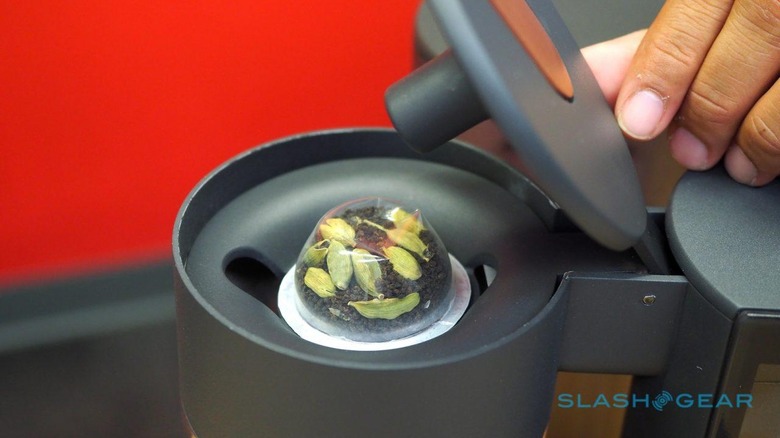 Since every family has its own favorite chai recipe, however, you're also free to add your own spices and extras. The brew chamber is accessible, to throw in fresh ginger perhaps, or a customized spice blend. Chime will only brew with a cap in place, though.
Since this is a kitchen gadget with geek appeal, of course, while you can do everything from the front panel – including save two drink configurations to dedicated preset buttons – there's a mobile app that pairs via Bluetooth, too.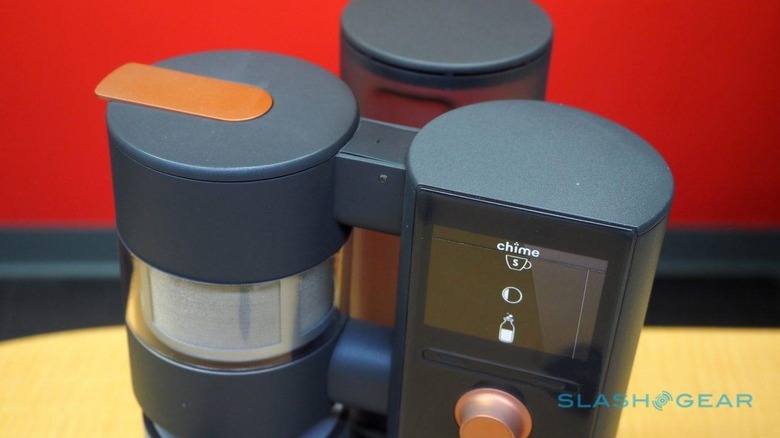 With that, Chime can monitor how many caps you've used and reorder them for you automatically, so that you're never out of chai. More importantly, arguably, you get far more granular control over the various brew settings in the app: once you've created a modified drink on your phone, you can transfer those settings over to a preset button, or even use them with someone else's Chime.
Chime has had prototypes in a number of offices – including with Google and Adobe – and Chawla says the feedback has been strongly positive. Chai tea is a traditional drink in a lot of countries, but the hassle of boiling and cleaning up after it means many who would like to drink it at work are forced to either switch to regular tea or coffee, or make a long trek to a cafe for an often-subpar chai-esque drink.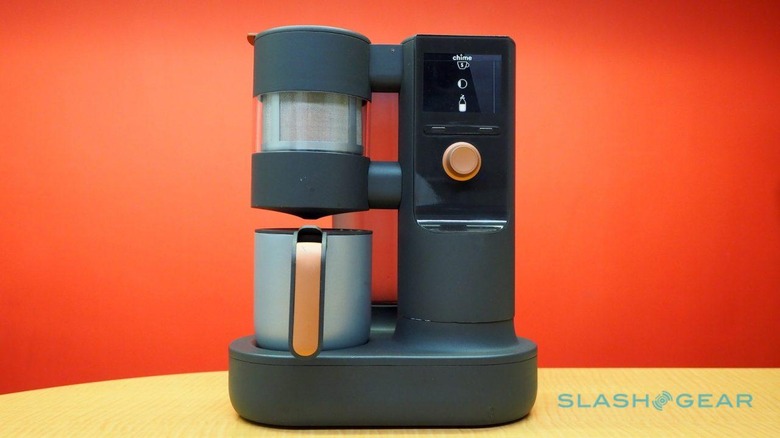 I'm a coffee drinker usually, but was impressed by what the Chime prototype produced. I like chai tea, but the fairly labor-intensive brewing process and the need to have various teas and spices on-hand means I'd be unlikely to make it at home myself; Chime would certainly streamline that process.
Chawla expects offices to be a particularly strong market, where basically Chime has no automated competition for chai. And, while regular tea or coffee may be some of the most common hot drinks in the US, he's confident that there's a sizable cohort of people who would gladly switch to chai tea (not least because of the various antioxidant and lower caffeine elements tea has over coffee) if it was made more convenient.
Chime goes up for pre-order today, at $249 with sixty caps and two metal brewing chambers in the box. Final pricing is expected to be $399, and Chawla says the chai tea machine should ship in March 2017.
MORE Chime