chicBuds Unveils New Zebra Chicboom Keychain Speaker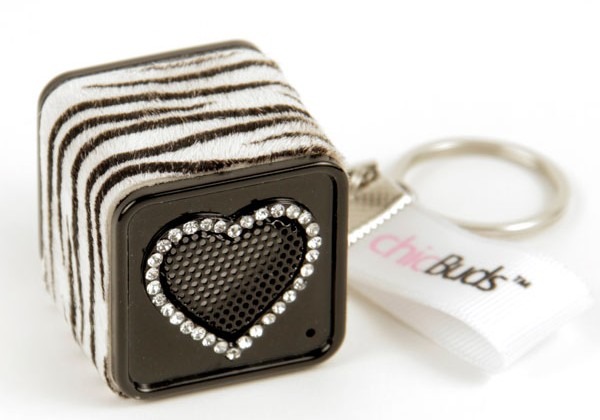 When I am looking for accessories or hardware, I want something that looks cool, but if a product works better or sounds better, I will go with something that might not look as cool over the pretty product that doesn't work as well. My wife on the other hand always leans towards the pretty stuff no matter how well it works. chicBuds has a line of gear aimed at women that promises both looks and performance.
The company has had the little chicboom Keychain Speakers for a while with a pink or blue leopard print version. Chicbuds has announced another version of the speaker for the ladies to check out that has a zebra print rather than the leopard. Judging by all the animal prints, my wife has around the house, she will like the zebra print speaker.
Other than having the animal print and crystal heart on it the little speaker is pretty cool from the tech side too. It's tiny and has an integrated key ring so you can hook it to your keychain. It has an internal rechargeable battery and is good for four hours of playback per charge. The power output is 2W, which is impressive for such a tiny speakers. It will hook to any device that uses a 3.5mm headphone adapter. You can pick any of the versions of the chicboom up for $29.99.