Chewbacca Crocs unveiled ahead of new Star Wars movie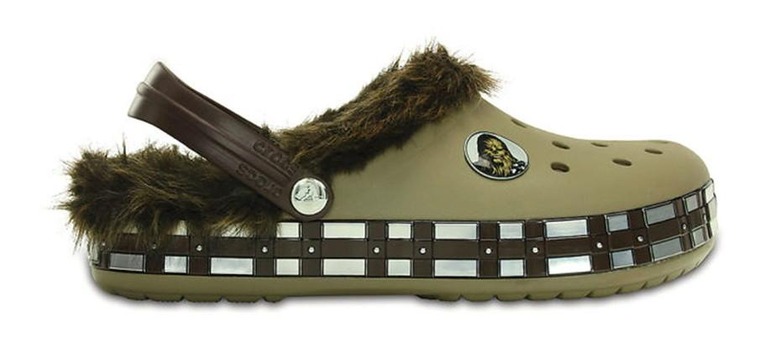 Items modeled after Star Wars characters are nothing new, and we've seen the number of gadgets grow as the next movie's premiere grows nearer (not that there was ever a shortage of such items). The newest one to surface is a bit of a misstep, though, at least if your fashion sense has reached the adult level: Chewbacca-themed Crocs. Yes, Crocs still exist, and these ones are toeing the line crossed by fuzzy Ugg boots, only with a side order of spongy and hole-filled foam.
The shoes come, of course, from Crocs the company, and they are like other Crocs shoes made of foam. The ventliation holes are in the top, and the shoes themselves are khaki colored, though the heel band is dark brown. There's a small emblem on the side with a picture of Chewbacca himself, perhaps to make it clear to others why you're wearing such odd shoes.
Lining the shoe's opening is fuzzy brown fur akin in design and color to Chewbacca's own luscious pelt. They're available in both men and women sizes, only women are more limited in sizes: 6 & 7, and 10 – 12 (sizes 8 and 9 aren't available). Men have sizes 4 & 5, and sizes 8 through 13 (sizes 6 and 7 aren't available).
The inside of the shoe has the same fuzzy lining, so they have that going for them — they'll probably keep your feet warm, though you won't want to wear them outdoors once the snow falls due to those aforementioned holes in the foam. Finally, a band stretches around the shoe that matches Chewbacca's belt.
Price is $60 USD.
SOURCE: Gizmodo