Chevy 2014 Malibu Becomes First US Midsize Sedan With Stop/start Technology Standard

This week the folks at GM have shown off details on the 2014 Chevrolet Malibu, including a rather green point of distinction. The 2014 Malibu will be the first midsize sedan sold in the United States to offer fuel-saving stop/start technology standard, coming in on its 2.5L base model. This technology allows the engine on the vehicle to shut down completely when the vehicle comes to a complete stop.
This technology first automatically turns the engine off when the car comes to – for example – a stoplight. Once the driver takes his or her foot off the brake, the engine restarts, and the driver is able to continue driving the same as they would any other vehicle. This stop/start system monitors a number of systems to make sure turning the engine off is the most efficient means of saving power.
The systems this technology monitors are vehicle speed, the force with which the brake has been applied, and climate control system operation. Amongst other systems, the monitoring of these three elements allows the stop/start system in the 2014 Chevrolet Malibu to decide if it makes more sense to just keep the engine running, too – if you're in heavy traffic, for example.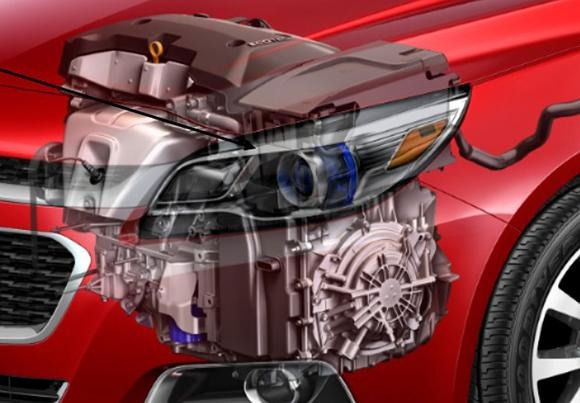 During each of these engine restarts, the vehicle works with an auxiliary 12-volt battery which powers electric accessories such as power windows, radio, heating, and air conditioning. Employing this technology on the base model 2014 Malibu has Chevrolet aiming to mainstream stop/start technology for the masses.
"The key was to apply the knowledge we gained from our eAssist technology. By leveraging knowledge from the stop/start system we use on eAssist, we were able to significantly improve city fuel ratings by 3 mpg, or 14 percent on Malibu's entry-level 2.5L model, compared to the 2013 model." – Todd Pawlik, Malibu chief engineer
This vehicle also works with Intake Valve Lift Control valve-actuation technology, allowing the engine on the vehicle to pump only the air needed to meet the demand of the driver. That's in low-lift mode – in high-lift mode, the engine switches to full output capabilities to take on heavy loads and high speeds.
The 2014 Chevrolet Malibu is available in three trims: LS, LT, and LTZ, each of them coming in with an $825 destination charge at prices that bump by 2k a level: $22,965 for the LS, $24,335 for the 1LT, $26,040 for the 2LT and $28,515 for the top LTZ trim. These prices exclude tax, title, license, and all dealer fees.