Chevrolet's Sonic Youth replaces Aveo in subcompact line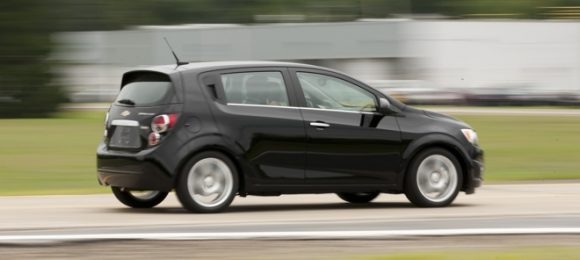 When it comes to subcompact cars, there is an always growing market but there is always a sense that they're not cool or hip. That is, when you hear of the Chevrolet Aveo, you probably think, "Oh yeah, that's the 'cheapest car' option at the rental car place." So it's time to put an end to that unfortunate moniker and introduce the next generation of affordable subcompact cars – enter the Chevy Sonic.
The Sonic is priced at under $20,000, which is always a nice price range when you're targeting the 20-somethings looking to get their first real ride. And also for the budget-conscious consumers out there, it has an EPA estimate of 40 miles per gallon on the highway and 29 MPG in the city. Not bad. Also, according to Chevy, the high-strength steel frame makes the Sonic 60% stiffer than its preceding Aveo.
The car has a 138-horsepower, naturally aspirated 1.8-liter four-cylinder automatic transmission. Acceleration is designed to be smooth and steady, regardless of how hard you press your foot down. Bluetooth connectivity, a USB port, and support for SiriusXM satellite radio all come standard for all those gadget-focused drivers. The cheapest model begins at just $15,000.
[via Wired]