Chevrolet's 2016 Cruze aims to democratize tech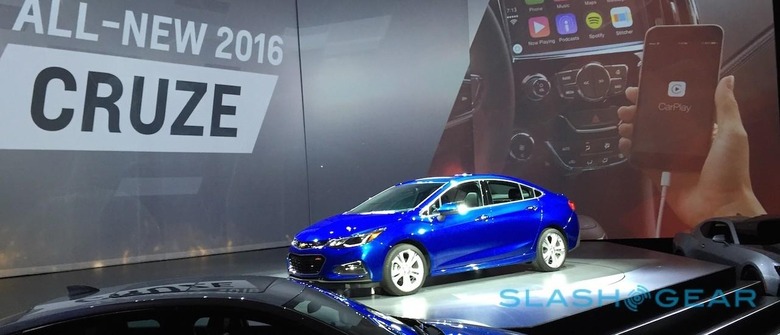 It might be one of Chevrolet's smallest cars, but the 2016 Cruze punches above its segment when it comes to its importance in the line-up. Revealed in Detroit today, though not set to go on sale until next year, the new Cruze is Chevy's lure to new young car owners, not to mention courting the non-US buyers that already make up around 60-percent of the car company's audience. On offer is a five-seater
On the outside, the Cruze borrows some of the more familiar aspects of Chevrolet's line-up. The sweeping hood edge, for instance, picks up on the new Malibu and Camaro, while the grille is reminiscent of the second-gen Volt.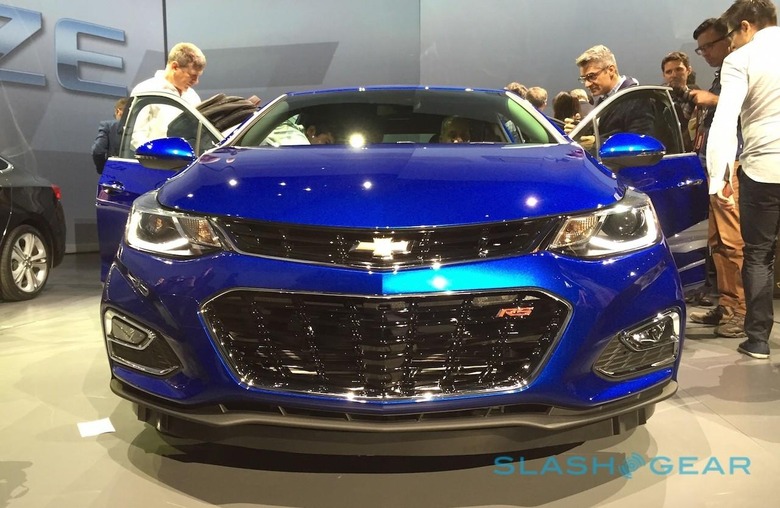 Higher-spec models will add daytime running LEDs to the projector lamps, while wheels options will start at 15-inches and go up to 18-inches. It's a more aggressive look overall than the previous-gen Cruze, not to mention more memorable.
As for engines, Chevrolet is announcing three, though they won't all be available at the same time and in the same geographies.
Most important to the US market (though also to be offered in Canada, Mexico, and other countries) is an all-new Ecotec 1.4L Turbo, good for an estimated 40 mpg courtesy of things like automatic stop/start, central direct injection, and a variable displacement oil pump.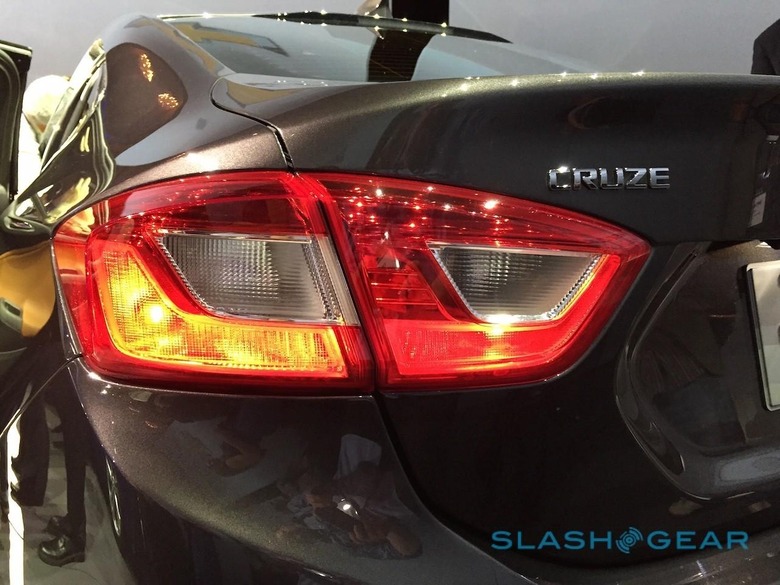 It'll be paired with either a Hydra-Matic 6T35 6-speed automatic transmission or a 6-speed manual, and put out 153 HP and 177 lb-ft of torque (at 2,000-4,000 rpm). Chevy says the 0-62 mph dash shows an 11-percent improvement over the old car and it's 44 pounds lighter, too. Still, the more interesting comparison might be to VW/Audi's 1.4L Turbo, with Chevrolet saying its new engine is up to 50-percent quieter.
Similarly interesting is an Ecotec 1.6L turbo diesel. That'll follow on after the gasoline engine launches, in 2017, but Chevrolet has big expectations since it'll definitely be coming to the US. While fuel economy numbers haven't been confirmed, Chevy is already predicting it'll be the non-hybrid leader, while the engine itself is low-noise and capable of running on B20 biodiesel.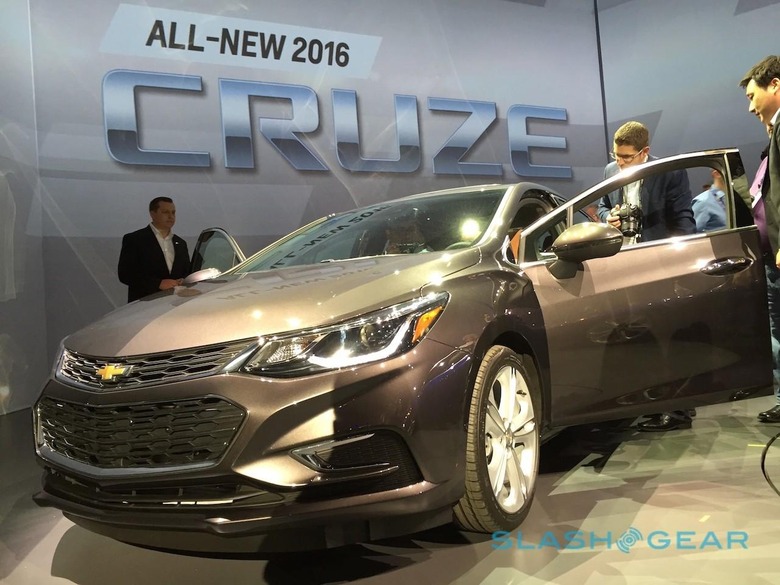 Diesels may not have the market penetration in the US that they do in Europe, but even so Chevrolet is being ambitious. The Cruze diesel "aggressively targets German car diesel dominance in the US," the company says, throwing down the gauntlet to VW's Jetta in particular.
The third engine will be an Ecotec 1.5L that's naturally-aspirated, not turbocharged. It'll be offered with the same automatic as the 1.4L Turbo, or with a 5-speed manual, and be good for an estimated 113 HP and 108 lb-ft of torque. However, it won't be sold in the US, and the actual list of launch countries is yet to be confirmed.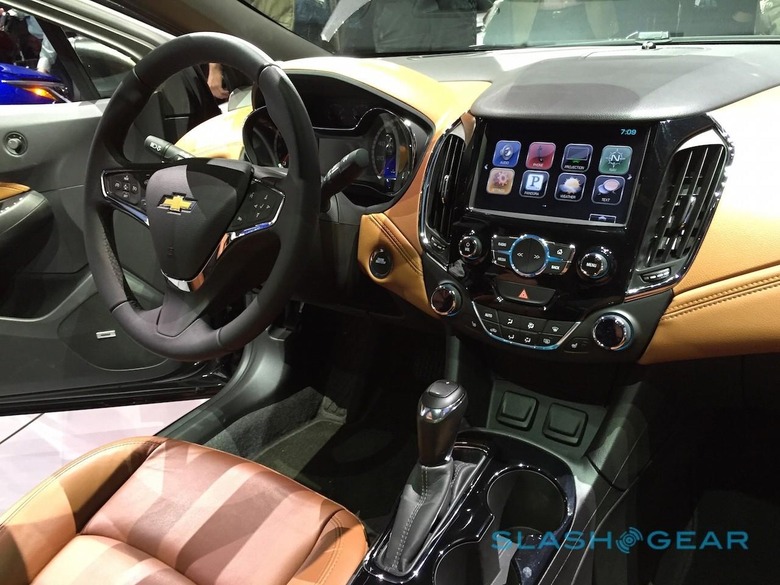 Inside, there'll be OnStar 4G LTE, with six months of OnStar subscription included, and a touchscreen infotainment system with CarPlay, Android Auto, and Chevy's own MyLink support.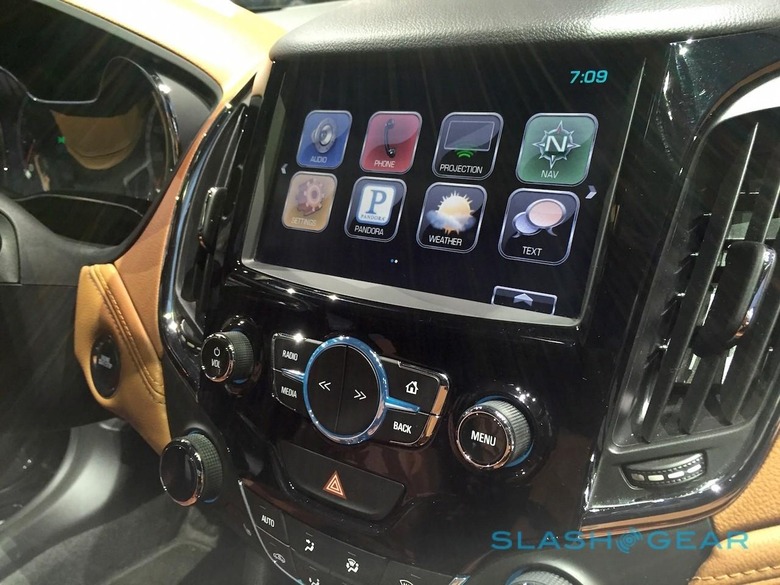 Ten airbags, seating for five with more legroom than before thanks to a 4-inch longer wheelbase, and options like heated seats that were missing from the order sheet of the old Cruze are now on offer.
Rear cross-traffic alerts, forward collision avoidance, and lane guidance are also on the options sheet, while wireless phone charging and a heated, leather-wrapped steering wheel can also be added.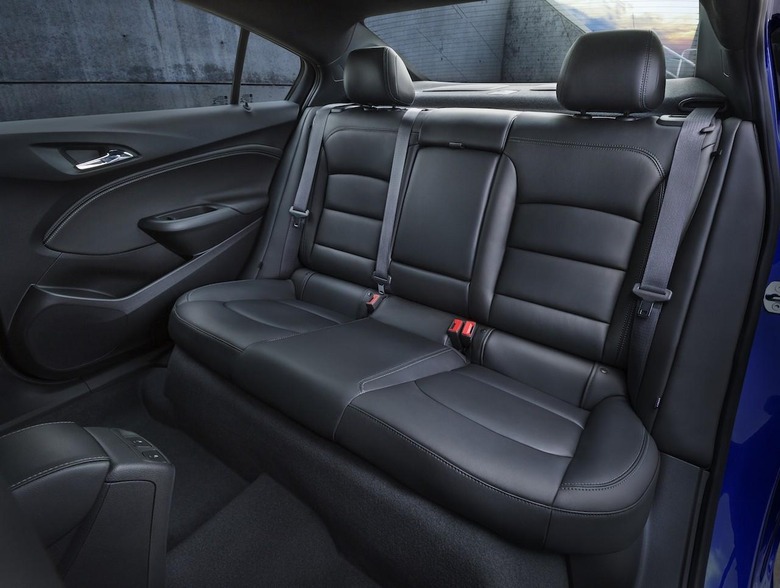 Five trim levels will be available in all, kicking off at L, then tracking up through LS, LT, and Premier, with a sportier-looking RS package too.
The new 2016 Chevrolet Cruze will go on sale in spring 2016, with pricing to be confirmed closer to launch.