Chevrolet Sonic Dusk officially starting production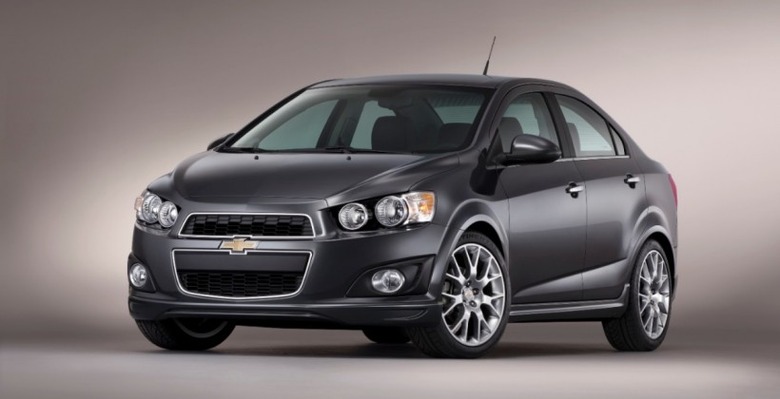 Chevrolet is looking to shake up the compact car market with the announcement of the Sonic Dusk. It will officially be announced at next week's Specialty Equipment Market Association (SEMA) show in Las Vegas, NV on October 30. There, the company will unveil a new, production-ready version of the Sonic sedan.
The Sonic Dusk appeared at last year's SEMA show as a concept car, and now Chevrolet is looking to turn the vehicle from a concept into a reality. Chevrolet's vice president of marketing, Chris Perry, said that "the reaction to the Sonic Dusk concept last year was overwhelmingly positive and proved customers are interested in a more-refined subcompact. We're moving quickly to bring Sonic Dusk to Chevrolet showrooms."
The production model of Sonic Dusk comes with some cosmetic changes compared to last year's concept model. For example, there's the ashen grey paint job, the rear spoiler, and 18-inch aluminum wheels finished in pearl nickel. There's also bits of matte on the grilles, as well as on the door handle inserts and trim around the license plate frame.
On the inside, the Dusk features leather-trimmed seats with suede accents and mojave tan inserts. There's also mojave accent stitching and tan-colored accents on the door panels and instrument panels, which enhance the interior's ambience. It's also equipped with Chevrolet's MyLink "infotainment" system, which can integrate a smartphone with the stereo system either via Bluetooth, plug-in outlet or USB.
The Sonic Dusk has a Ecotec 1.4-liter turbocharged engine rated at 138 horsepower and 148 pound feet of torque. 6-speed manual and automatic transmissions will be available. Chevrolet is hoping for a late-2012 release of the car, and should have a performance-focused RS model out at the same time as well.