Chevrolet MyLink scores Siri on more 2014 models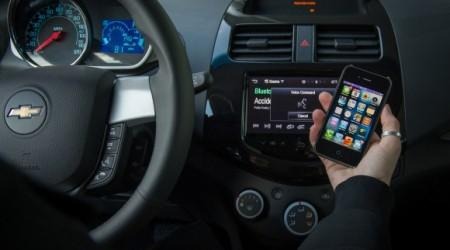 Back in 2012, Siri joined Chevrolet's MyLink infotainment system on a handful of models, including the 2013 Chevrolet Spark. Today, the auto maker announced that Siri Eyes Free Integration will also be available on several 2014 models, including the 2014 Malibu, Cruze, Equinox, SS, Volt, and Camaro.
For the vehicles equipped with MyLink, the Siri integration will allow drivers to make hands-free calls to contacts stored on their iPhone (iOS 6+), as well as play music through the handset from iTunes via iPod Mode. Drivers will also be able to both compose/send and listen to iMessages and text messages to both contacts and specified phone numbers. Rounding it out is the ability to pull up Calendar and add appointments.
The system works by connecting with Bluetooth, after which point it is paired and can be controlled with voice commands after voice activation is initiated via the steering wheel. Sessions can ended in the same manner. The iPhone's display is prevented from lighting up, helping prevent distraction and keep drivers' eyes on the road.
Chevrolet's vice president of U.S. Marketing Chris Perry said: "The response to Siri Eyes Free integration in Chevy Sonic and Spark from our customers has been remarkable. Easy, reliable and portable connectivity is a top priority for our customers, and Siri complements MyLink's existing capabilities to help deliver an incredible driving experience, so we're excited to expand this to even more customers."
SOURCE: GM