Chevrolet adds Siri to 2013 Spark; Previews next-gen MyLink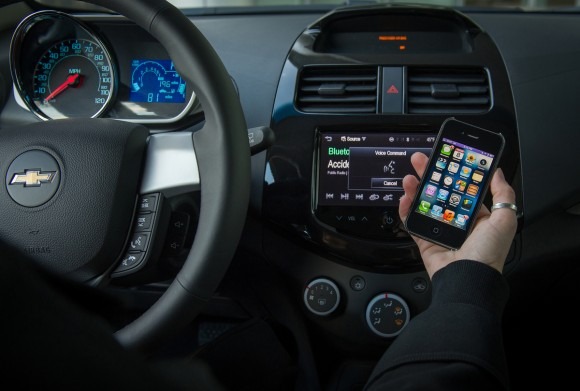 Siri is hitching a ride in the 2013 Chevrolet Spark and Sonic LZ and RS, with support for the voice control system in the MyLink infotainment systems; meanwhile, an all-new version will debut in the 2014 Impala. The Siri functionality, announced at the Los Angeles Auto Show 2013, allows a Bluetooth-connected iPhone to play songs, switch sources from AM/FM/XM radio to iPod mode, trigger calls to contacts, handle messaging, and the calendar, all by verbal instruction. It's not the sole preserve of big-bucks Chevys, either, with the car company opting to debut the tech in its more affordable models.
There's also a new Eyes Free mode, which keeps the iPhone's screen turned off and relies solely on voice feedback from Siri, so that the driver can stay focused on the road ahead. That also means that the sort of complex queries which would usually trigger a web search won't prompt to look online.
In order for it to work, the iPhone or iPad must be running iOS 6.0 or above; then it's a case of pairing it via Bluetooth with the MyLink system. The steering wheel "Voice" button triggers Siri from that point on.
Chevrolet Spark iPhone Siri integration demo:
However, there's a more complex Chevrolet MyLink system incoming the following year, and which will debut in the new Impala. The next-gen system has a choice of four menu themes – contemporary, edge, velocity, and main street – for its standard 4.2-inch display or optional 8-inch touchscreen, and can hook up to ten external devices, use its own natural voice recognition system for calls, navigation, media, and more.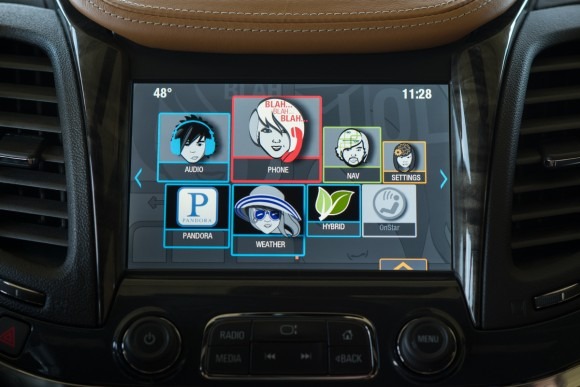 There's a 60 station favorites system which spans AM/FM/XM radio, contacts, destinations, music, and other media, and support for both Bluetooth and USB smartphones. Connected versions will add city-level weather reports, and OnStar will spread from the traditional blue button to an on-screen dialog too; six months of premium Directions and Connections will be included. A microphone is suspended above the driver to avoid confusion from road or engine noise.
Chevrolet 2014 Impala with next-gen MyLink demo:
The Chevrolet 2013 Spark with Siri will go on sale early in the new year, priced from $12,995, while the 2014 Impala is due in the spring, priced from $27,535. The next-gen MyLink system will also be available in other 2014 model year Chevys, including full-sized trucks, SUVs, and the Corvette.