Chevrolet announces rear wheel drive SS performance sedan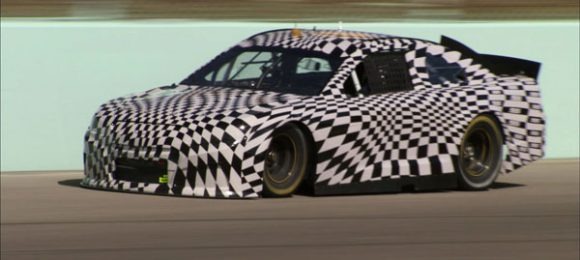 Chevrolet has announced the return of a rear-wheel drive performance sedan with V-8 power for the 2014 model year. The new vehicle is called the Chevrolet SS. The SS designation has a long history with Chevrolet being used on production performance cars as far back as 1961. The new car will be a derivative of the global rear-wheel drive architecture that the Camaro uses.
The SS will also be used as Chevrolet's NASCAR stock car for the 2013 season. The photograph you see here is a camouflage version of that stock car in testing. The first view of the racecar will be at the NASCAR Sprint Cup 2013 Daytona 500. Chevrolet isn't offering details on the coming SS.
The carmaker has announced that the SS will arrive in dealer showrooms in late 2013 as a 2014 model. This is the first time in 17 years that Chevrolet has offered a rear-wheel drive sedan for sale in the United States. In case you're wondering, a sedan has four doors while a coupe, such as the Camaro, has two doors.
"As a passionate race fan and performance enthusiast, I am thrilled that Chevrolet will deliver a true rear-wheel-drive NASCAR racecar in the SS that is closely linked to the performance sedan that will be available for sale," said Mark Reuss, president of GM North America. "The Chevrolet SS is a great example of how GM is able to leverage its global product portfolio to deliver a unique performance experience that extends beyond the track. I am personally looking forward to driving it."