Cherry Picks 2008: NABC UltraLast Innovations Energy Station Charger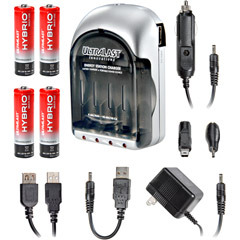 This nifty little charger not only powers and/or charges your gadgets, but you can use standard batteries (AA and AAA) to charge them if this thing's batteries run out. Or, you can take it the other way, via USB, you can charge those same batteries or more, and this thing comes with 4 rechargeable AA batteries.
Those batteries come pre-charged and work fully right out of the package. If you plan on storing this kit for emergency situations, those batteries will still retain 85% of their power after a year of storage.
It comes with 3 different plugs that work with over 100 devices. You can get it now at some of the more high tech B&M stores for $29.99.