Cheap Ouku Tab Android 2.1 tablet lands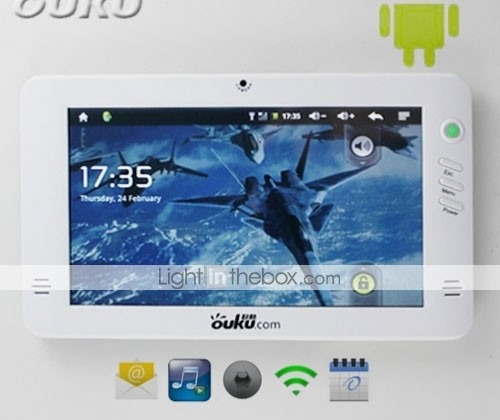 In the gadget world, you often get what you pay for. Some folks really want a gadget like a new Android tablet and are willing to risk poor performance in exchange for buying a cheap and little known brand of tablet like the Ouku Tab that is now available on Lightinthebox. The tablet is a 7-inch offering that runs Android 2.1 and sells for $124.99.
The Ouku is shipping now and that 7-inch screen is touch sensitive. The tablet has a 0.3MP camera and it and has integrated WiFi. The tablet will surf the web and can download from the Android Market. It supports all of the things you expect with Gmail and more.
Internal storage is to 4GB of memory and it has external storage with T-Flash cards. It has a micro USB port, a headphone slot, and a mic port along with headphone port. The battery is good for 4-5 hours of use per charge. The processor running the show is an ARM 2818a from Rockchip running at 660MHz. The capacitive touchscreen resolution is 800 x 480.
[via Android Community]