Charger prototype offers 30-second smartphone charging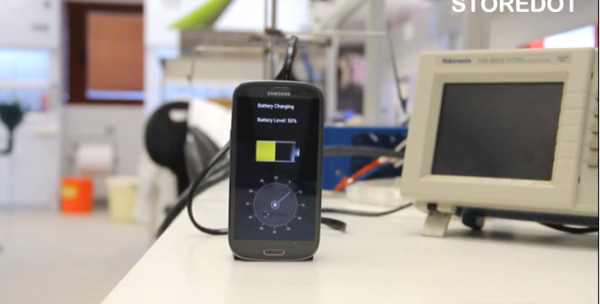 We've seen a variety of new battery technologies over the years, the most intriguing of which being the prototype from Israeli startup StoreDot. The company has shown off the prototype for a rapid smartphone charger that can fully charge a Samsung Galaxy S4's battery in 30 seconds.
The StoreDot prototype is the brainchild of Tel Aviv University's nanotechnology department, where it was designed to charge a Galaxy S4's battery (though there are plans to create it for other phones, as well). The device was demonstrated at the Microsoft Think Next conference, as well as in the video below.
It takes about 30 seconds to charge a nearly completely dead battery to 100-percent, something accomplished using the startup's amino acid-based biological semiconductor technology. Production is planned for late 2016, with the price being estimated at double that of a regular smartphone charger.
For now the prototype sits at about the size of a laptop charger, but when it reaches shelves, the size will be smaller — how small isn't yet known, since work is currently being done on that aspect of the development.
VIA: 9to5Mac
SOURCE: Wall Street Journal