Charge Card for iPhone fits in your wallet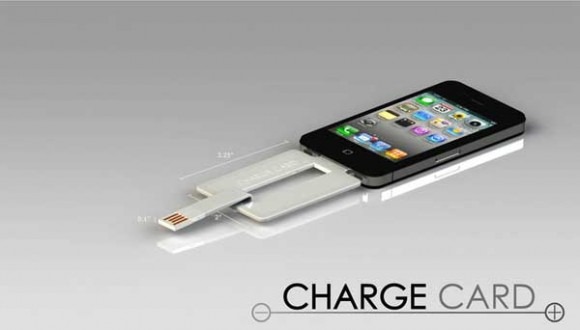 It never seems to fail that your iPhone goes dead at the worst possible time. Most of us don't have a charge cable on us at all times so if your phone goes dead you're out of luck until you get back to the home or office. A new project is on Kickstarter called the Charge Card that lets you have a charger for your iPhone on you at all times.
The Charge Card is claimed to be the slimmest charging and data cable for the iPhone around. The device is thin enough to fit inside your wallet so you can easily carry it with you at all times. In the center of the Charge Card is a flip down, flexible USB connector that you can plug into any USB port.
On the other side of the Charge Card is a standard iPhone dock connector that plugs into your device. The rigid plastic of the Charge Card allows it to be used like a charging stand in some instances propping your iPhone up as it charges. The USB connector itself appears to be flexible to allow you to position the charger to work with a variety of devices.
The Charge Card is 2.54 mm thick overall, so it should fit into even the most crowded wallet. The guys behind the Kickstarter project say that it's thin enough that it can store underneath many iPhone cases. The body of the charger is made from ABS plastic, and the flexible USB arm is made from a thermoplastic elastomer. The charger is designed to work with a case installed on your iPhone. The project is seeking $50,000 and so far has raised $102,970 with 28 days to go.