Champions Tailgate Ford F150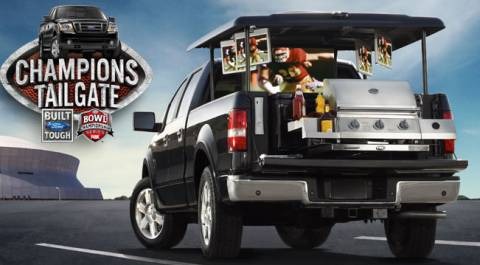 So, what do you need to have the ultimate tailgating party? First you need a tailgate, well, I am pretty sure this Ford F-150 has that, so check.
From there you need about 5 plasma TVs, an Xbox 360 to play the video game version of whatever sport you are tailgating at, this truck has both of those, so double check. Then you probably ought to have a grill, preferably a gas one, to cook all the awesome tailgate food on, well, this truck also has that, in fact it slides out onto the tailgate for ease of access.
The best part, all of that is protected by the pop-up cover that the TV's are mounted to, meaning even if it starts raining or snowing you don't have to put everything away immediately. The worst part, this is a one-off truck being used as the prize for some dumb ass competition instead of being mass marketed by Ford, now that would be awesome, then on non-game days you could have Halo LAN parties in the middle of a parking lot or field.
How To Tailgate Like A Champion [via uberreview]