CES 2009: Samsung Yahoo! Interactive TV Experience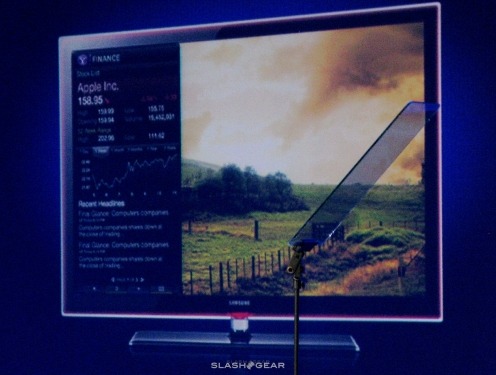 At a press conference at CES 2009 today, Samsung announced the latest generation of their Interactive TV Experience, with HDTVs integrating DLNA media streaming, online video from sites such as YouTube, streaming movies from Netflix and similar providers, connected Yahoo! Widgets, and media such as photos, video, music and stocks.  Yahoo! are calling this Cinematic Internet, bringing user choice, openness, community and customization to the television screen, controlled solely by a remote control.
Samsung and Yahoo! are working with eBay and CBS, among others, creating TV Widgets – compact, web-enabled applications – that will access video and other content.  Different widgets will be available to download, built on the fifth-generation of the Konfabulator platform, with a new GUI designed specially for TVs.  In the future, social media widgets and streaming TV shows and movies are planned.
The GUI shows up as a bar at the bottom of the display, scrolled left and right using the remote.  New widgets can be downloaded direct from the TV itself, rather than requiring a computer, and media browsed through this menu can then be maximized to the full display.  The sets can also access Full HD - wirelessly with WiFi, WHDI, Wireless USB, Mobile WiMAX and other standards - together with Netflix streaming and Pandora intelligent online radio.
The Samsung Yahoo! Interactive TV experience will begin to appear on HDTVs available from the company this year, including the new Luxia LED TV range.