CES 2009: Routon P760 MID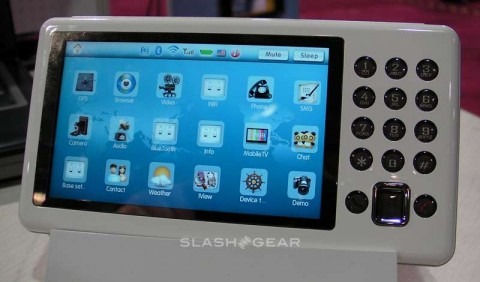 Routon have brought their latest Mobile Internet Device (MID), the P760, to CES this week, complete with a 4.8-inch 800 x 480 touchscreen, ARM11 processor and optional mobile broadband. The P760 is based on Linux and has either 4GB or 8GB of solid-state storage, 128MB of RAM and a 2-megapixel camera.
Routon fit the P760 with CDMA 1X as standard, but GSM/EDGE is also a possibility. Both 533MHz and 667MHz ARM11 processors are offered, and there's standard WiFi b/g, Bluetooth 2.0+EDR and GPS. It measures a compact 166 x 88 x 16mm, has a dedicated numeric keypad, and weighs 250g; the battery pack is a 2,000mAh unit, though Routon would not suggest runtime estimates.
Other options include an integrated FM transmitter and DVB-T digital TV tuner. The software package on the show floor included browser, phone, SMS, Mobile TV and media player apps. Routon are currently looking for distributors for the P760; as such, there's no word on pricing or availability, and the specifications are subject to change.