CES 2009: MSI X-Slim X320 versus Apple MacBook Air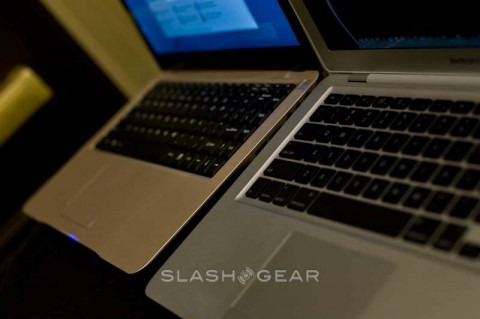 The MSI X-Slim X320 is, as many have observed, surprisingly similar  in design to Apple's MacBook Air.  Coincidentally, SlashGear brought Apple's second-gen Air to CES today, so we can bring you this exclusive comparison gallery.  1.98cm thick X320 or 1.94cm Air – despite the design overlap there's plenty of difference if you look closely.
Port-wise the X320 blows the Air out of the water: three USB 2.0 ports, ethernet, audio in/out and a memory card slot, compared to the Air's single headphone socket, Mini DisplayPort and single USB.  Under the hood, though, the Air claws back the difference, squashing the X-Slim's Intel Merom processor with its Core 2 Duo.
Stack the Air up on a pile of twenty dollar bills and a USB hub to make up the difference with the X320, and it probably slips into second place when it comes to thickness.  Still, these are very different machines with very different target audiences.
Check out the gallery below for all the images.