CES 2009: Lenovo ThinkPad W700ds hands-on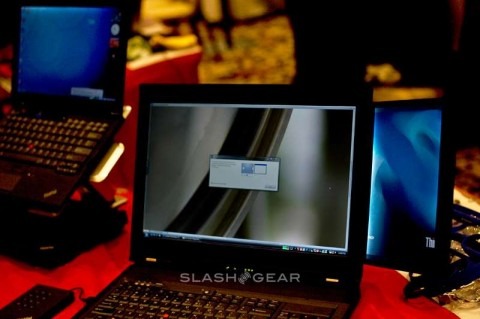 Lenovo's ThinkPad W700ds may have been around for a few weeks, but CES has been the first opportunity we at SlashGear have had to play with the dual-display behemoth.  Based on Lenovo's original W700, complete with a Wacom graphics digitizer integrated into the palm rest, the W700ds adds a pull-out 10.6-inch LCD display that slides from the main 17-inch panel.  It's an interesting concept, but our hands-on impressions leave us wondering if the compromises are worth it.
There's a fair degree of backlight bleed on the secondary panel, with the LED backlighting being significantly noticeable at all but dead-on angles.  Thankfully the screen tilts forward and back when fully extended, meaning that unless you regularly move around while working you should be able to avoid bleed most of the time.  Meanwhile the graphics tablet is positioned low on the palm-rest, giving little support to your wrist.  It's a thick and heavy machine, too: 13.2lbs, and the lid (thanks to the secondary screen mechanism) is almost thicker than the base.
Nonetheless, the reviews we've seen certainly confirm that the W700ds is a powerful desktop replacement and should certainly be considered by graphic designers and anyone else doing heavy lifting in their media processing.  Just bear in mind that that won't be the only heavy lifting involved!