CES 2009 : Exploring Westinghouse showroom, new lineups with prices revealed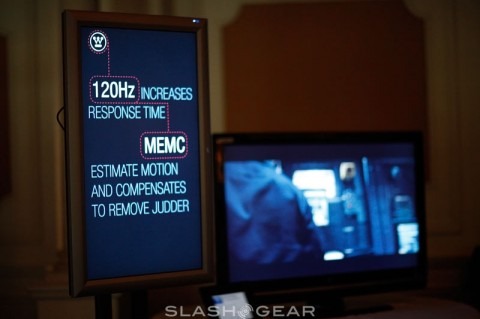 Westinghouse Digital unveiled full a range of LCD TVs and monitor displays at CES last week, ranging from 60 to 120Hz Full HDTVs, to WXGA and WUXGA resolution LCD monitors. These, together with a number of digital signage displays and Westinghouse Digital's proprietary custom ad-builder applications, were hosted inside the private showroom at the Sterling Club, behind the Las Vegas Hilton Hotel, and SlashGear was invited along to take a look.[more product images after the cut]
The new TX series 120Hz sets, according to the company, are targeting customers looking out for affordable displays with premium features. The three models are 37, 42 and 55-inches, and are Full HD with 24fps capable panels, offering 5000:1 contrast (4000:1 on the 42-inch), 500 nits of brightness, 6.5 ms response time (4ms on 42-inch) and four HDMI connections. All three models are equipped with Motion Estimation/ Motion compensation to reduce judder and increase the smoothness of panning scenes. On 24P sources, the Westinghouse 120Hz displays will perform 3:2 pulldown converting them to 60Hz before doubling the frame rate to 120Hz. Nothing you've not already seen from the display market, true, but the keyword here is "cheap". The TX-37F510Z has a MSRP at just $699, the TX-42F970Z of $999 and the TX-55F350Z of $1599, with anticipated launch dates from May to July of 2009.
Next up were the LCDs, a total of five affordable models each with 60Hz panels, that range from 21.6 to 47 inche of Full HD. There are number of useful basic features but nothing ground breaking here; the same goes or Westinghouse's seven new 1366 x 768 WXGA resolution LCDs (the specifications of which are listed below).
In smaller-size monitors, the company introduced four new 16:9 aspect ratio LCDs, ranging from 1600 x 900 to 1920 x 1080 resolution fabricated with TN film panels, and one 16:10 PVA panel running at 1920 x 1200 resolution. I was given a product spec sheet which indicated all panels, including the PVA screen, offer 170/160 viewing angles, which could be a typo as the PVA screen definitely looked much better from an angle. All models are tree hugger enabled, eco-friendly displays with EPA Energy Star 4.1 Tier 2 rating, and are fitted with onboard stereo speakers.
Beyond Full HD, the company prepped a $50,000 digital signage LCD with a Quad Full HD resolution (3840 x 2160) of 8.3 million pixels. The business class display has a 56-inch widescreen panel, boasts 50,000 hours of lifespan with 1200:1 contrast, 500 nits brightness, 6.5ms response time and 176/176 viewing angles.
For business use, Westinghouse has a proprietary app to work in conjunction with the company's displays. I was given a quick demo on the product, an easy-to-use and drag-n-drop ad builder solution to generate text and company logos, and support audio and video inserts with full HD resolution output. It wasn't ajax but it was certainly very intuitive to use.
A few prototype goodies were plainly displayed with parts and pieces; there was a wireless picture frame with 4:3 aspect ratio screen running at 1280 x 768, a 7-inch portable TV operated on a battery (available Q4, 2009) with ASTC tuner, an IPTV media receiver ($199), and a 3D display beamed by a dual-projector setup (which Westinghouse expect to have on the market in two years time). Still, the main story here is the low-cost, high-performance HDTVs, and in today's economy you can't argue with Westinghouse Digital's focus.
1080P 120hz LCD
TX-37F510Z (37" 1080p 120HZ LCD HDTV)

Available June/July 2009; Estimated Retail Price: $699

• 120 Hz and Motion Estimation/Motion Compensation

• 37" viewable HDTV

• ATSC/NTSC/CATV/Clear QAM

• 1080p; 1920 x 1080 resolution

• 5000:1 contrast ratio

• 500 nits brightness

• 6.5 ms response time

• 4 HDMI, 2 YPbPr, 2 CVBS/S, 1 VGA, 1 SPDIF

TX-42F970Z (42" 1080p 120HZ LCD HDTV)

Available May/June 2009; Estimated Retail Price: $999

• 120 Hz and Motion Estimation/Motion Compensation

• 42.0" viewable HDTV

• ATSC/NTSC/CATV/Clear QAM

• 1080p; 1920 x 1080 resolution

• 4000:1 contrast ratio

• 500 nits brightness

• 4 ms Response Time

• 4 HDMI, 2 YPbPr, 2 CVBS/S, 1 VGA, 1 SPDIF

TX-55F350Z (55" 1080p 120HZ LCD HDTV)

Available May 2009; Estimated Retail Price: $1,599

• 120 Hz Motion Estimation/ Motion Compensation

• 55.0" viewable HDTV

• ATSC/NTSC/CATV/Clear QAM

• 1080p; 1920 x 1080 resolution

• 5000:1 contrast ratio

• 500 nits brightness

• 6.5 ms response time

• 3 HDMI, 2 YPbPr, 2 CVBS/S, 1 VGA, 1 SPDIF

1080p LCD HDTV:PT-22F380S (21.6" 1080p LCD HDTV)

Available March 2009; Estimated Retail Price: $299

• 21.6" viewable

• 1080p; 1920 x 1080 resolution

• 16 x 9 aspect ratio

• ATSC/NTSC/CATV/Clear QAM

• 1000:1 contrast ratio

• 300 nits brightness

• 5 ms response time

• 1 HDMI, 1 YPbPr, 1 CVBS, 1 VGA

VK-40F580D (40" 1080p LCD HDTV / DVD Player Combo Unit)

Currently Available; Estimated Retail Price: $899

• 40.0" viewable HDTV

• ATSC/NTSC/CATV/Clear QAM

• 1080p; 1920 x 1080 resolution

• Integrated front-slot load DVD player

• Pixel Direct™ technology that delivers DVD video to the screen using a direct path (the shortest path possible) and the least amount of signal processing

• SpineDesign™ construction featuring side connectors for easy accessibility, with picture view technology through the USB port.

• 1800:1 contrast ratio

• 8.0 ms response time

• 2 HDMI, 2 YPbPr, 2 CVBS/S, 1 VGA, 1 SPDIF

TX-42F450S (42" 1080p LCD HDTV)

Available April 2009; Estimated Retail Price: $899

• 42.0" viewable HDTV

• ATSC/NTSC/CATV/Clear QAM

• 1080p; 1920 x 1080 resolution

• 6000: 1 contrast ratio

• 400 nits brightness

• 6.5 ms response time

• Autosource™ automatic source detection and switching

• DayBright™ panel technology for stunning daytime or nighttime viewing

• SpineDesign™ construction featuring side connectors for easy accessibility, with picture view technology through the USB port.

• 4 HDMI, 2 YPbPr, 2 CVBS/S, 1 VGA, 1 SPDIF

VK-46F260S (46" 1080p LCD HDTV)

Available April 2009; Estimated Retail Price: $1,199

• 46.0" viewable HDTV

• ATSC/NTSC/CATV/Clear QAM

• 1080p; 1920 x 1080 resolution

• 5000:1 contrast ratio

• 500 nits brightness

• 6.5 ms response time

• DayBright™ panel technology for stunning daytime or nighttime viewing

• 3 HDMI, 2 YPbPr, 2 CVBS/S, 1 VGA, 1 SPDIF

VK-47F140S (47" 1080p LCD HDTV)

Available April 2009; Estimated Retail Price: $1,299

• 47.0" viewable HDTV

• ATSC/NTSC/CATV/Clear QAM

• 1080p; 1920 x 1080 resolution

• 4000:1 contrast ratio

• 500 nits brightness

• 6.5 ms response time

• DayBright™ panel technology for stunning daytime or nighttime viewing

• 3 HDMI, 2 YPbPr, 2 CVBS/S, 1 VGA, 1 SPDIF

LCD HDTV:

PT-19H340S (18.5" LCD HDTV)

Available March 2009; Estimated Retail Price: $249

• 18.5" viewable HDTV

• 16 x 9 aspect ratio

• ATSC/NTSC/CATV/Clear QAM

• 1366 x 768 resolution

• 800:1 contrast ratio

• 300 nits brightness

• 5 ms response time

• 1 HDMI, 1 YPbPr, 1 CVBS/S, 1 VGA

PT-22H340S (21.6" LCD HDTV)

Available February 2009; Estimated Retail Price: $299

• 21.6" viewable HDTV

• 16 x 9 aspect ratio

• ATSC/NTSC/CATV/Clear QAM

• 1366 x 768 resolution

• 800:1 contrast ratio

• 400 nits brightness

• 5 ms response time

• 1 HDMI, 1 YPbPr, 1 CVBS, 1 VGA, 1 SPDIF

SK-26H630S and SK-26H735S (26" LCD HDTV)

Available March 2009; Estimated Retail Price: $399

• 26.0" viewable HDTV

• ATSC/NTSC/CATV/Clear QAM

• 1366 x 768 resolution

• 800:1 contrast ratio

• 450 nits brightness

• 8 ms response time

• 2 HDMI, 2 YPbPr, 2 CVBS/S, 1 VGA, 1 SPDIF

SK-26H570D (26" LCD HDTV / DVD Player Combo Unit)

Currently Available Estimated Retail Price: $499

• Front Slot Loading, Upconverting DVD Player

• 26.0" viewable HDTV Combo

• ATSC/NTSC/CATV/Clear QAM

• 1366 x 768 resolution

• 800:1 contrast ratio

• 450 nits brightness

• 8 ms response time

• 2 HDMI, 2 YPbPr, 2 CVBS/S, 1 VGA, 1 SPDIF

SK-32H635S and SK-32H820S (32" LCD HDTV)

Available March 2009; Estimated Retail Price: $499

• 32.0" viewable HDTV

• ATSC/NTSC/CATV/Clear QAM

• 1366 x 768 resolution

• 2500:1 contrast ratio

• 450 nits brightness

• 6.5 ms response time

• Multiple HDMI, 2 YPbPr, 2 CVBS/S, 1 VGA, 1 SPDIF

SK-32H570D (32" LCD HDTV / DVD Player Combo Unit)

Currently Available Estimated Retail Price: $599

• Front Slot Loading, Upconverting DVD Player

• 32.0" viewable HDTV Combo

• ATSC/NTSC/CATV/Clear QAM

• 1366 x 768 resolution

• 1200:1 contrast ratio

• 450 nits brightness

• 6.5 ms response time

• 2 HDMI, 2 YPbPr, 2 CVBS/S, 1 VGA, 1 SPDIF

SK-37H730S (37" LCD HDTV)

Available May/June 2009; Estimated Retail Price: $699

• 37" viewable HDTV

• ATSC/NTSC/CATV/Clear QAM

• 1366 x 768 resolution

• 2500:1 contrast ratio

• 450 nits brightness

• 6.5 ms response time

• 3 HDMI, 2 YPbPr, 2 CVBS/S, 1 VGA, 1 SPDIF

LCD MonitorsL2031NW (20" Class LCD Monitor)

Available : Second Half 2009; Estimated Retail Price: $199

• 20" TFT LCD monitor, 20.0" diagonal viewable

• True HD 16:9 aspect ratio, 1600x900 resolution

• 0.277 x 0.277mm pixel pitch

• High 1000:1 contrast ratio

• 250 nits brightness

• Fast response time of 5ms

• 16.7 million true colors

• Wide viewing angle: 170° H, 160° V

• HDMI (HDCP), VGA and stereo audio inputs

• Built-in stereo speakers: 1W x 2

- EPA Energy Star 4.1 Tier 2 compliant:

- Power consumption: <41 W

- RoHS Compliant L2220HW (22" Class LCD Monitor) Currently Available; Estimated Street Price: TBD

L2220HW (22" Class LCD Monitor)

Currently Available: Estimated Retail Price: $279

• 22" TFT LCD monitor, 21.6" diagonal viewable

• True HD 16:9 aspect ratio, 1920x1080 resolution

• 0.248 x 0.248mm pixel pitch

• High 1000:1 contrast ratio

• 300 nits brightness

• Fast response time of 5ms

• 16.7 million true colors

• Wide viewing angle: 170° H, 160° V

• DVI-D (HDCP), VGA and stereo audio inputs

• Built-in stereo speakers: 1W x 2

- EPA Energy Star 4.1 Tier 2 compliant:

- Power consumption: <55 W

- RoHS Compliant

L2427HW (24" Class LCD Monitor)

Available: March 2009 Estimated Retail Price: $299

• 24" TFT LCD monitor, 23.6" diagonal viewable

• True HD 16:9 aspect ratio, 1920x1080 resolution

• 0.2715 x 0.2715mm pixel pitch

• High 1000:1 contrast ratio

• 300 nits brightness

• Fast response time of 2ms (gray to gray)

• 16.7 million true colors

• Wide viewing angle: 170° H, 160° V

• 2 HDMI inputs with HDCP, 1 DVI-D (HDCP), 1 VGA

• Built-in stereo speakers: 1.5W x 2

- EPA Energy Star 4.1 Tier 2 compliant:

- Power consumption: <59 W

- RoHS Compliant

L2635HW (26" Class LCD Monitor)

Available: March 2009 Estimated Retail Price: $399

• 26" TFT LCD monitor, 25.5" diagonal viewable

• 16:10 aspect ratio, 1920x1200 resolution

• 0.287 x 0.287mm pixel pitch

• High 1000:1 contrast ratio

• 5000:1 dynamic contrast ratio

• 300 nits brightness

• Fast response time of 2ms (gray to gray)

• 16.7 million true colors

• Wide viewing angle: 170° H, 160° V

• 1 HDMI inputs with HDCP, 1 DVI-D (HDCP), 1 VGA

• Built-in stereo speakers: 1.5W x 2

- EPA Energy Star 4.1 Tier 2 compliant:

- Power consumption: <65 W

- RoHS Compliant