CES 2009: Eee PC T91 Tablet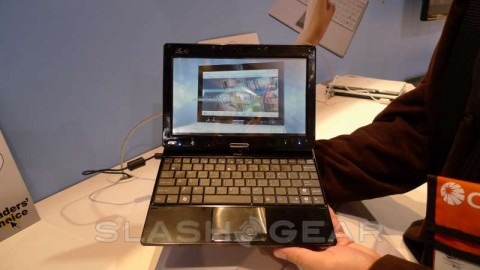 SlashGear has eagerly been waiting to get our hands on the new ASUS Eee PC T91 tablet netbook. This tablet is the first of the Eee netbook line to have an integrated touchscreen designed to give users even more control of their browsing experience.
The touchscreen is a 8.9-inch Touch Panel with LED backlighting. Under the hood you will find that it is powered by an Intel Atom Z520 processor. Weighing in at only 990g and 225 x 164 x 25.2 ~ 28.4 mm, this amazing little device is running Genuine Microsoft Windows XP Home.
There are a few options when purchasing this unit such as built-in GPS and TV Tuner. You can also get one of these in either black or white. Being big fans of the Eee line, we certainly can't wait to get one of these in to review!